Kelley bright spot in disappointing season
Alex Mellion
Journal Staff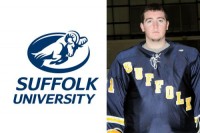 While the Suffolk hockey team has fallen on some tough times this season, they have had great performances from several underclassmen on the roster, and one of their most consistent performers has been sophomore goaltender Cam Kelley.
Originally from Brighton, Kelley is the only goaltender on the roster to have played in all 15 games this season, and although the team has been less than spectacular, Kelley has been solid, stopping 308 of 364 shots while posting a .846 save percentage.

"I played forward until I was about nine years old," Kelley says, "I switched to goalie because my teammate decided that he didn't want to play anymore in the middle of a game. I went into the net that game, and haven't looked back since."
Kelley showed flashes of his talent last season, when he backed up then-senior captain Jeff Rose.  Kelley played in five games, starting one, and stopped 55 of 58 shots, all while sporting a 1.69 GAA.
Kelley was named the Eastern College Athletic Conference Goalie of the Week earlier this season after the Rams won their first two games of the season in the Becker College IceBreaker Tournament.  He stopped 48 of 50 shots in those two games, which earned him the award.
After winning the IceBreaker Tournament, the Rams seemed to be destined to have a successful season, but unfortunately the team has fallen on hard times of late, and they are currently in the midst of a 13-game losing streak.
"It is tough to pinpoint the exact reason for this year's slow start," Kelley says.  "Our team is very young and has a strong core with our lower-classmen."
The Rams currently have just four seniors on the roster, and youth has certainly played a part in the team's struggles this season.  The future does look bright for the team however, as underclassmen have scored 29 of their 31 total goals this season.
The Rams' top 13 scorers are all underclassmen, which guarantees that the nucleus of this team will be back for at least one more year.
Kelley shares the hope for the team's future, and knows that the Rams could be a legitimate threat in the ECAC conference in the future.
"My personal goal is to go out there every game and give my team the best possible chance to win; I think we have a bright future as a program, and I am excited to see what the future brings for the team."
Leave a Comment