Michael Christina
Journal Staff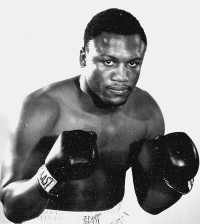 In an era run by mixed martial arts and fighters who avoid fights, boxing is now an afterthought of American sports. There was, however, a time in this country where boxing was king. And one of the men who made it that way was Joe Frazier.
Smokin' Joe is one of the most renowned sports figures ever. Even non-fans of the sport can recite Howard Cosell's famous call of "Down goes Frazier! Down goes Frazier!" And though his name will live on forever through one of his greatest failures, his success in the ring can never be understated.
Frazier was both an Olympic and undisputed World Heavyweight champion throughout his career. He will always be remembered for being one of the greatest heavyweights of all time, and his left hook was just as lethal as it is legendary.
Frazier's fame in the sport will always undoubtedly be linked to Muhammad Ali. The rivalry truly did separate a population, with Frazier often being the fighter that much of white America identified with. His style was in direct contrast of the brash and bold Ali, who would continually push the buttons of his main adversary. Both men had a true disdain for one another, which is evident throughout what is considered the greatest trilogy of fights in the history of boxing.
The Thriller in Manila still stands as one of the most brutal displays ever seen, with Ali stating later that it was the closest he ever felt to death in the ring. It is believed by many that the fight largely contributed to Ali's current condition of having Parkinson's disease.
Unfortunately for Frazier he is often and undeservedly overshadowed. The legend of Muhammad Ali is known worldwide, and rightfully so. What Ali stood for in that era cannot be overstated. But there are even examples of Smokin' Joe being overlooked in his own backyard.
Philadelphia is one of the greatest boxing cities of all time in large part due to Frazier. Yet if you go visit the city of brotherly love you won't find a statue dedicated in his honor. Instead you'll find a giant statue of Rocky Balboa, a fictional character. But that is Frazier's legacy in a nutshell. He was one of the greatest and is frequently one of the most underappreciated.
When you hear old timers talk about the golden days of boxing, Joe Frazier is a key figure. It was a time where the two greatest pastimes in America were baseball and boxing, and Joe Frazier fought during the pinnacle of the sport.
It is often debated within our generation if Mike Tyson could have defeated Muhammad Ali if they fought in the same era. Frazier did. He fought within the greatest crop of heavyweight fighters boxing has ever seen.
And in the current age of overpaid and overhyped fighters who are afraid to step into the ring (Floyd Mayweather), Frazier fought during a time where you couldn't run from a fight. You fought the best because you were a fighter. It's what you did.
So here's to Smokin' Joe, a true icon of American sports, and most importantly, a true fighter.