Men's basketball splits first two games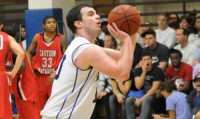 Alex Hall
Journal Staff
In their first game of the 2011-2012 season, the Suffolk University men's basketball team suffered their first loss, losing to the University of New Hampshire 85-64.
The Rams battled the Wildcats to the end despite the lopsided end score, as Suffolk went on an 8-0 run midway through the fourth quarter, at one point narrowing their deficit to just nine points.
UNH would have too much firepower for Suffolk to overcome however, with the senior tandem of Alvin Abreau and Brian Benson scoring 19 and 17 points respectively for the Wildcats.
The Rams would find themselves playing catch up through out the entirety of the contest, with their Division I opponents opening up the game with a 9-0 run with Jordan Bronner finishing the run with a layup, putting New Hampshire up 25-10 early on in their home opener.
It was an overall brutal game for Suffolk for much of the contest, with UNH posting a 46.3 shooting percentage and 50 percent from the field.
The 'Cats were able to score on the Rams almost at will for much of the matchup, leading by as many as 23 points in the second quarter of play.
Suffolk was able to muster a late rally however, sparked by junior Jevic Muteba when his layup began the aforementioned 8-0 run that allowed the Rams to make this a game for a brief period of time.
The loss marked the fifth time Suffolk has lost to New Hampshire in as many meetings, all of which were played on the Wildcats' home court in Durham, New Hampshire.
Suffolk got their second win of the season Tuesday at Eastern Nazarene College. It was a close game but the Rams battled and got the victory 67-64.
Suffolk will continue their season this Friday when they take part in the Endicott College Tournament. They open against Massachusetts College of Liberal Arts at 7 p.m.