Women's soccer advances to GNAC semi-finals
Alex Hall
Journal Staff
St. Louis' NFL team wasn't t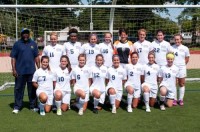 he only Rams who pulled off an upset over the weekend. Suffolk University's women's soccer team defeated second ranked Johnson and Wales University in the first round of the Great Northeast Athletic Conference last Saturday.
The victory didn't come in high-scoring fashion as many of the Lady Rams' recent wins have, scoring just one goal in a 1-0 victory over their conference rivals. The goal would come on a Leslie Hayden break away, which would mark the Senior's 143rd career point, moving her past former JWU Wildcat Patrice Merendina to become the GNAC's all time scorer.
This milestone would come just a few games after Hayden became the conference's all-time leading goal leader in what has been a historic career for the Suffolk attacker.
The goal last Saturday also gives Hayden the Suffolk record for most points in a single season with 48 and she is currently tied for the program's record for goals in a season with 21.
Just as important as the goal was offensively for the Lady Rams to pull of the upset was Freshman goalkeeper Melissa Brouilette stopping 12 of the Wildcats' shots on goal during the contest. The Connecticut native Brouilette came up big in her first career playoff game, shutting out an opponent with the third best offensive goal output in the entire conference.
Suffolk entered the playoff game as the last seed in the tournament, with JWU earning the second with a 9-2-2 conference record. One of those nine victories came against Suffolk back in mid-September when the Wildcats defeated the Lady Rams 2-1 during Suffolk's early losing skid to start the 2011 season.
Johnson and Wales learned that this wasn't that same team they played back in September however, with their opponents riding a 7-1-1 record over the month of October.
Behind the spectacular play of Brouilette and Hayden, these Lady Rams were able to overcome the odds and now find themselves in the tournament semi-finals against third ranked Albertus Magnus Wednesday at 2:30 p.m.
The game was scheduled to be played during the weekend but was postponed due to the Nor'easter that hit many parts of  New England.