Women's volleyball team wraps up season
Hang on for a minute...we're trying to find some more stories you might like.
Alex Mellion
Journal Staff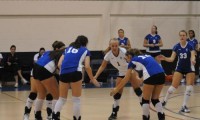 The Suffolk Women's Volleyball team finished up their season on October 29th by beating Pine Manor.  Sophomore Maggie Hillman paced the team with 19 kills and 15 digs, and fellow sophomore Colbey Kennedy added 17 digs, as the team won in four sets: 25-17, 20-25, 28-26 and 28-26.
The team finished the season with an 11-18 overall record, and a 4-9 GNAC conference record, which tied them for ninth in the division.
The team experienced an up and down season, and they never really settled into any sort of rhythm.  There were a few bright spots on the roster however, as several underclassmen really came into their own this season and played key roles in the Rams' success.
Hillman was one of the team's most consistent playe
rs, and racked up an impressive 301 digs and 254 kills on the year, which was good for first, second and first on the team respectively.  She will be counted on heavily next season to lead the Rams into the upper echelon of the GNAC conference, and judging by this season's performance, she certainly seems up to the task.
Another key player this season was senior Melissa Griffin.  Griffin had another outstanding season for the Rams, accumulating 254 digs and 207 kills and a team leading 49 service aces. She was one of only two seniors on the team this season, and was counted on to bring experience and guide the younger players.  She, along with fellow senior Tanya Fortes, were able to help the younger players on the team adapt to playing a college schedule.
While the team graduates Griffin and Fortes, it will return 12 players, including Kennedy, Hillman and Hailey Atkinson (148 digs, 114 kills).  With the main core of the team gaining another year of experience, it's not out of the realm to think that the Rams will be in the thick of the GNAC race next season.
If another younger player can step up and help complement the duo of Kennedy and Hillman, and the team gets a few more talented freshmen, expect the Rams to improve upon their record and finish well above .500 next season.