Bruins hoping to cure 'Stanley Cup Hangover'
Matthew Bacon
Journal Staff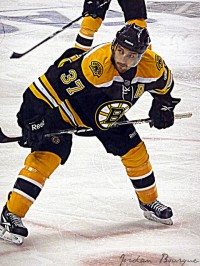 It is no secret that the Boston Bruins are not living up to their expectations through the first eight games of their season. Their 3-5 record is nothing to be proud of for the defending Stanley Cup champion, which puts them in twelfth place in the Eastern conference, only ahead of the Ottawa Senators, Winnipeg Jets, and Montreal Canadiens.
This Thursday, the Bruins face a pivotal moment in the season when they take on Montreal (1-4-2) at the TD Garden in the first game of a home and home series between the two teams.
Sometimes, all it takes is a classic rivalry game to wake a struggling team up. Rivals bring out the best and worst of each other in professional sports, and the Bruins need both. They need to come out flying on Thursday and put immediate pressure on the struggling Carey Price (1-4-2, .878 sv%, 3.13 GAA) and hit guys like P.K. Subban into submission early.
Big goals from players like David Krecji and Patrice Bergeron, who both only have one so far this season, would be a great energizer for this team still somewhat struggling to find their offense. Although it would be nice to say that Bruins should easily be able to capitalize on Montreal's terrible start, this not a game where records matter.
Thursday night at the Garden will be a battle between two rival teams desperately trying to redefine their season against each other.
The Bruins don't just need to win at home, however. They also need to go into Montreal two days later and sweep the home and home. The best way for the Bruins to salvage this disappointing month is to win two clutch games against their biggest rivals ever.
The momentum factor from winning these next two games is unimaginable, especially going into the month of November where the Bruins have a relatively easy schedule, playing teams like Ottawa, Columbus, Winnipeg, and the New York Islanders.
When it's all said and done, the Bruins have two huge games ahead of them. Beating Montreal not only once, but twice, would officially put the Bruins back in contention and give them a great foundation to move forward into the rest of the season on.
If they don't win, is it time for Bostonians to press the panic button? Absolutely not. Following the home and home, there will still be 72 games left to play this year, and every hockey fan knows that anything can happen in the NHL.
Leave a Comment