Suffolk volleyball looking to improve record
Alex Mellion
Journal Staff
The women's volleyball team (6-11 overall) went 2-2 this week, winning matches against Lesley College and Newbury College, before losing matches against Rivier and Babson College.  Versus Lesley last Tuesday, senior Melissa Griffin led the way with a team high 13 kills, including eight in the final set, while sophomore Maggie Hillman posted nine kills, nine digs and seven service aces on the evening.
Against Newbury last Thursday, the Rams won their fourth match in a row overall in three sets: 25-23, 25-22 and 25-23.  Hillman paced the team with 13 kills, and freshman Glamarys Sierra added 30 assists and 6 digs.
The Rams are on the road for the next three games, beginning with a game tonight at Framingham State.  The team then plays at Gordon on Thursday, and then they have a tri-match against St. Joseph (Conn.) and Emerson.
The tri-match also begins a span of conference play for the Rams, as eight of their final 10 games are against GNAC foes.  Emerson is currently 6-0 in the GNAC conference, and will prove to be a formidable challenge for the Rams.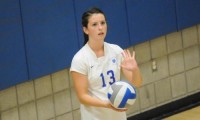 Leave a Comment