Repeat offenders: Why the Boston Bruins can do it all again
Matthew Bacon
Journal Staff
Earlier this June, the Boston Bruins shocked the hockey world and inspired fans throughout New England and the globe by defeating the Vancouver Canucks in seven games to win the Stanley Cup.
The Bruins silenced critics and the heavily favored Canucks while overcoming adversities like the injury to Nathan Horton and heartbreaking defeats in games one and two.  The heroics of players like all-star goalie Tim Thomas, rookie sensation Brad Marchand, and captain Zdeno Chara is what finally ended 39 years of disappointment in Boston.
As all thirty NHL teams entered training camp this weekend, one of the most commonly asked questions around the hockey community are whether or not the Bruins can bring Stanley Cup glory back to Beantown.  The answer to that question was yes.  Bruins General Manager Peter Chiarelli has spent the last five years building a Stanley Cup winning team, but his wisest move was keeping this current Bruins squad together.
In the age of the salary cap, it's tough for general managers to keep their teams together after winning the Cup. Chiarelli, however, has barely tinkered with his roster this offseason.
Ageless forward Mark Recchi has finally decided to hang up the skates at age 43, and forward Michael Ryder was lost to Dallas in free agency.  To fill their roster spots, Chiarelli acquired the young promising forward Benoit Pouliot through free agency, and veteran defenseman Joe Corvo from the Carolina Hurricanes in exchange for a fourth round draft pick.
Other than these minor changes, the Bruins taking the ice this year will look exactly the same as last year's championship squad.
It does not take a hockey expert to see that Boston is more than capable of being the first NHL team to win back to back Stanley Cups since the Detroit Red Wings did it in 1997 and 1998.  Not only has Chiarelli managed to keep his team together, but this current Bruins squad is bursting with rising stars like Marchand, David Krejci, Tyler Seguin, and Tuukka Rask.  Hockey's future in New England is looking brighter than ever.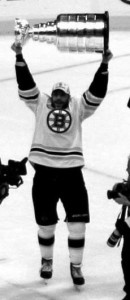 Leave a Comment