Suffolk volleyball struggling out of gate
Alex Hall
Journal Staff
After a difficult 2010 season for the Suffolk Volleyball team, the new year has looked all too similar.
The Lady Rams finished towards the bottom of the standings in the GNAC last year, leading to the dismissal of former head coach Heather Cox from her position. Noel Moran, who worked with Cox, is now the head coach for Suffolk and the team has struggled so far this season.
Moran is familiar with her new team, as she was assistant coach for two seasons with Suffolk before receiving her new role earlier this season. She also played from 2004-2008 with the Lady Rams, accomplishing such feats as earning her role as team captain and being named to the Great Northeast Athletic Conference All-Conference team.
Suffolk currently sits last in the conference standings with just a 2-9 record overall and 0-4 within the GNAC. It's been a difficult run for the new head coach, with her team nine games with no sets won, and zero games with more than one set won.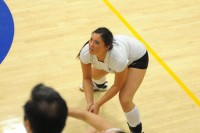 A few bright spots for this team have come from senior Melissa Griffin and sophomore Maggie Hillman who both have played big roles on the attack for Suffolk this season. Suffolk sits at 8th place in kills within their conference in large part due to the play from the duo.
The Regan Gymnasium natives also find themselves second in blocks in the GNAC with 242 on the year. Defensive play may seem questionable when looking at the box scores for this squad, but with so many blocked shots and attempts one could argue the Lady Rams have been unlucky to some degree this season.
There are some players and aspects of this squad that have emerged in the early goings that could lead to a mid-season turnaround, but the comeback must start soon as there are only nine in-conference games left on Suffolk's schedule.
Though the start to her head coaching career has been a tough road, Moran has the track record to instill confidence in her players. On top of her college success, the 2008 alum went on to win two gold medals and one silver medal in her career. It will be an uphill battle going forward, with Moran looking to channel her success during her playing years into success for this Lady Rams squad.
Suffolk will travel to Salem, Mass this Tuesday to take on the Salem State University Vikings in an out of conference match-up.