A Pro on Beacon Hill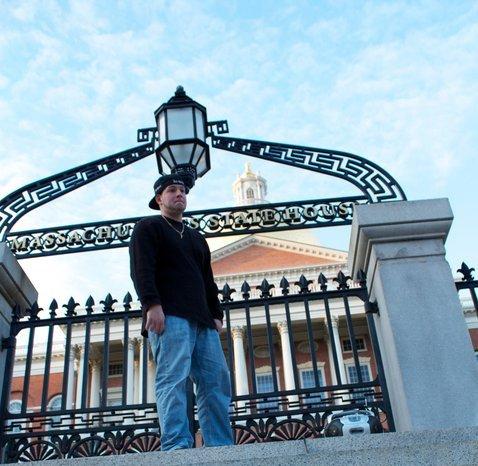 From Providence to Boston, Nick Pro brings energy and passion to quality hip-hop.
"I started listening to hip-hop when I was 10," Pro told the Journal. "Before that, I listened to rock and pop. My good friend showed me hip-hop music. I first started listening to 50 Cent and Eminem."
Influenced by Big L, the Notorious B.I.G. and Nas, Pro took his hobby to paper at age 12 and began recording at 13.
"I started off producing myself with limited equipment at home," he said. "Then I needed better quality, so I jumped from studio to studio, producer to producer, and networked with different people." He now has a set studio in Providence, where he works with Larry Ohh (a rocker from Scared Don't Fear) and Cake of Lowell.
His first mixtape, Pain vs. Pleasure, was released in June of last year and features 13 tracks. Among the familiar stand "Haters Get Mad," "Collision Course" and "Drip Champagne."
Pro personally feels collaborations make the best music. He is in the loop with well-known locals Passionate and Marty McFly, as well as Gia and Young Joe.
"Potentially, I'd like to make a career out of this," said Pro. "I'm constantly writing and always out to get the best quality."
There is, however, a misconception between hip-hop and rap. "I'm a hip-hop artist, although I do make some rap songs. Hip-hop to me is music people can get in to, it's upbeat. My friend, Passionate, he's rap, not hip-hop. If you have an ear for music, you can point out the difference."
He has also submitted his video, "Gorgeous," to Royal Crew Apparel's Battle of the Emcees contest, for which the winner will receive  $350 worth of credit toward studio time and Royal Crew apparel for one year.
According to Pro, the contest highlights hip-hop artists' single tracks, and there are currently about 20 entries. Voters may cast their vote once per day via Facebook until the contest closes on March 15.
"A lot of people were involved [with the video]. At times, it was a struggle because we get sidetracked. Overall, I am really happy with the way it came out," said Pro.
The Suffolk sophomore is known around campus for hosting a weekly show with Jordan Lazieh. Flava in Ya Ear airs on Suffolk Free Radio every Tuesday night from 8 to 9 p.m. "We play old and new hip-hop and talk about different topics: sports, movies, music, anything and everything."
In terms of lyrical themes, the artist keeps it versatile. "There's a song like 'Gorgeous,' then a song like 'Therapy.' I don't like to have one thing to go by; I like to be open with my music, not classified as one thing. It's all about the mood I'm feeling."
Pro has been seen holding down past performances at Destiny's Tavern (Woonsocket, RI), Tommy's Lounge (Pawtucket, RI) and Tazza Cafe (Providence). He dubs his next at Colosseum night club in Providence (March 14). "Probably my biggest show yet," Pro said.
To hear the hype, Nick Pro Music can be found on SoundCloud, Facebook, MySpace, and ReverbNation.
Leave a Comment