Women's basketball battling for GNAC lead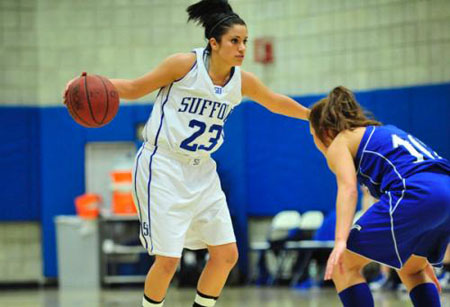 The Suffolk women's basketball team has commenced the month of February with a strong win against non-conference opponent Lasell College, 70-50, on the Laser's home court this past Saturday.
This isn't the first time the women's basketball team has won in impressive fashion during the season; in fact this has been the norm for Coach Leyden's team during the 2010-2011 season.
Suffolk has averaged 66 points per game over the 20 games they've played this season, as well as an impressive 8-1 conference record in the GNAC. (That impressive record is second only to the Emmanuel Saints, who are unbeaten in conference play.)
Many of the 66 points per game for the Lady Rams have come from capitalizing on their free-throw opportunities. Thus far, they are converting on 72 percent of their shots from the line.
The Lady Rams have made very few mistakes during this second semester stretch of play, and their strong free-throw accuracy as well as their average of 45 rebounds per game, has clearly made things easier for them to win. (Much of this success has come from Viennau and Ruys, who have a combined 210 rebounds during the team's 20 games' played this season.)
Since returning from the month-long winter layoff, the Lady Rams have gone 10-1 and have all but embarrassed many of their post-break opponents. Sophomore Jacqueline Vienneau and Freshman Jennifer Ruys have been a devastating one-two punch for Suffolk this season, averaging 12.9 and 12.8 points per game, respectively.
Vienneau recently helped pad this stat with a career-high 23-point outing against conference rival Johnson and Wales last Thursday. Fittingly, Ruys also posted an impressive 19-point performance in that game, her highest of the season.
With play like this from their players, Suffolk has been playing on a level few others in the conference can match. The only thing standing between Coach Leyden's team and the top seed in the conference are the Saints from Emmanuel College.
The main thing preventing Suffolk from accomplishing this goal, however, is that the Lady Rams only have one more conference match-up before the regular season comes to a close, while Emmanuel's remaining schedule are all opponents from the GNAC.
Suffolk's only chance to improve their conference record comes this Saturday against archrival Emerson at home.
Coach Leyden will obviously be focused on winning the Emerson game as well as the other non-conference battles, but there's reason to believe he'll be keeping a good eye on what the Saints are doing over at Emmanuel. The stretch run of the season is approaching, and it's time to win the big games.