Literary journal published through Suffolk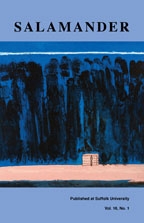 "When I started the journal it was so long ago it was before email existed, but now with email the communication [between writers] is easy," said Jennifer Barber, the editor in chief of the literary journal Salamander. Her office is quiet and peaceful in a small section of Suffolk's Archer building.  "I used to spend a lot of time at the post office, mailing things back and forth. The production process was slower because of it."
"It used to be run out of my house," Barber continued. "We've been at Suffolk since 2005. Suffolk gives us an annual budget to print the journal. It used to make my house very messy when it was there."
Established in 1992 by Barber, Salamander is a literary journal containing poetry, fiction, and memoir pieces from writers across the country. What first started out as a 60-page journal run out of Barber's house has now become a semi-annual publication reaching across America with 1,000 copies printed per volume. "Now it is about 160 pages, so it's grown over the years, especially since coming to Suffolk."
"Our goal initially, [which] has remained the same, is to publish outstanding work of writers deserving of a wider audience," said Barber. "It is not a student journal, it's a national journal."
Originally, the writing staff came mostly from New England, as did the readership, but it has grown exponentially since its founding almost 20 years ago. Salamander is subscription-based and is mailed out to readers around the U.S.
"[I've been editor in chief] since the beginning. I founded the magazine," said Barber. "Back in 1992, desktop publishing was pretty new and I had wanted to start a journal for a while and I realized that the technology made it inexpensive. I had lots of friends who were writers whose work I wanted to see in print."
Salamander started off primarily as a poetry publication, but with its growth has branched off to include larger fiction pieces as well. With the journal having become so large, and as a professor of poetry at Suffolk, Barber doesn't do all the work herself. She has a staff of editors all around the New England area. Her managing editor, Heather Madden, has been with the publication since 2008.
"My duties are supervising interns, physically handling the logging in and logging out of the submissions process, reading manuscripts, reading pieces after our interns read them, taking care of our marketing and coordinating mailings and handling subscriptions," said Madden with a smile.  She is also a writer and said mostly everyone involved with Salamander is.
Madden mentioned that the journal is brought to the annual Associated Writing Programs Conference in Washington D.C., where there is a book fair component as well as panels and discussions.
"We go to represent the magazine as it is at Suffolk. We take copies with us to show. We just started a fiction contest, so we do a lot of marketing for the competition there," said Madden.          Because of the journal's wider reach, the authors involved correspond from across the country as well, which Barber says is one of her favorite aspects as the founder of Salamander.
"What I've enjoyed most about [Salamander] over the years is that when I read a piece that I really like, is just having the power to make it appear in print," said Barber. "To me it's very thrilling to know the piece will have a readership. It excites me every new issue that comes out to be able to do that and introduce people to new writers."
Madden shares similar excitement, but enjoys the behind the scenes work as well. "I guess that most of what I've studied has been literature and writing. I've always worked with journals and I really like seeing what's out there and what people are doing. It's pretty fun for me to be involved with the behind-the-scenes part of it, the part that makes it work. It's much muddier than it looks in the final product. There's just a lot that goes on behind the scenes."
Between the 35 authors involved in the most recent volume, Salamander has evolved from a small publication out of Barber's own home to a nation-wide spread and lengthy journal with country-wide reach. Salamander can be found online for subscription purposes as well as in the Suffolk bookstore.
Leave a Comment