Fantasy Football: Players to Look out for in Week 7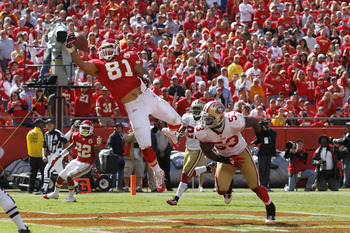 Alex Hall
Journal Staff
Heading into this week of the NFL season, there are more than a few early round draft picks giving fantasy players headaches. T.J. Houshmandzadeh is supposedly playing for the Ravens right now, but has all but disappeared when looking at game stats for Baltimore. The Brett Favre interception tour came to a halt (at least for now) against America's Team last weekend, but before traveling to Dallas he had thrown at least one pick in every game this season. Despite all these big name players making you regret ever clicking the "draft now" button, there are some players who are actually earning their NFL paychecks and can help earn you earn a Week 7 victory.
Giants WR Hakeem Nicks against the Dallas Cowboys
Tom Coughlin's squad is riding a three-game winning streak and Hakeem Nicks was a big part of their offense in two of those games. Nicks did struggle against Detriot last weekend, which was a huge letdown, but he did almost catch a touchdown and had caught two just a week previous against Houston. Before the Lions game he had back to back 100-plus yard games, while racking up at least eight catches in both contests. The Giants are looking to close the book on their rival Cowboys this season, and if they're able to achieve this on Monday night it will have something to do with the Giants premier deep threat.
Saints RB Chris Ivory against the Cleveland Browns
Ivory had the biggest game of his rookie year against Tampa Bay last week, torching the Browns' defense for 158 yards on fifteen carries, even adding a receiving touchdown to his stats. Ivory looked impressive during the pre-season, and Saints fans were reminded of this last weekend as he and the Saints' potent offense annihilated the Buccaneers in Tampa last weekend. The Browns rank 20th against the run this year, giving up an average of 111 yards per game, and Ivory enters the game hot off his 158 yard game against a similarly mediocre rush defense. This game is nothing short of a mismatch and if the Saints were able to put up 31 in Tampa last weekend, there's no reason they can't do the same thing when they play the Browns in the Superdome.
Buccaneers QB Josh Freeman against St. Louis
Okay, so maybe I've taken too many shots at the Rams' defense, but this pick actually has more to do with the fact Josh Freeman is developing into a solid quarterback. In four of the seven games played this season, Freeman has posted a passer rating of 80.4 or greater while never having a rating under 67. He even had an impressive performance against the defending Superbowl champions last weekend. The Buccaneers' QB can also score you a few extra points based on the fact he has run for 20 or more yards in all but two contests this season. Does he have Michael Vick speed? No, but as any fantasy football veteran knows, every point counts. And as I've documented this year, the Rams defense has been struggling to defend the pass all year, and with Freeman coming into the game playing as solid as he has been, I would expect him to continue that pace this Sunday.
Chiefs TE Tony Moeaki against the Jacksonville Jaguars
If you haven't heard about Tony Moeaki yet, then perhaps you've been asleep at the waiver wire. Seemingly out of nowhere, Kansas City has launched themselves into NFL relevance for the first time since Tony Gonzalez left town and Larry Johnson could run for a gain of more than two yards. With the reemergence of Matt Cassel the Chiefs have put together an impressive offense, and Moeaki has been enjoying the benefits. The rookie out of Iowa has been a short yardage favorite of Cassel this season, and has found the end zone against both San Diego and San Francisco, respectively. But Tony has been effective against non-Californian teams as well, posting a five-catch, 58-yard performance at Cleveland, and a four-catch, 50-yard performance against the Colts. It's time the managers of fantasy football begin to respect the Chiefs once again, and take note of some of their premier offensive threats.