Justin Bieber, Olivia O'Brien, Luke Combs and more release new music
Sept. 18 brought "New Music Friday" to a whole new level, as several popular artists spanning multiple genres released chart-topping hits. Check out the new songs and albums below if you're looking for new music to listen to!
"Holy"- Justin Bieber and Chance the Rapper
Justin Bieber and Chance the Rapper collaborated together to release "Holy," and instilled great excitement in fans who were looking forward to Bieber's next hit. As the title suggests, "Holy" represents a more spiritual side of Bieber; a side he's been showing on social media for some time now. In preparation for the release of the song, Bieber posted several times on his Instagram page referencing a "New era. New single. It begins." 
The song certainly followed through on this theme, with many of the lyrics centered around God and having hope during a challenging time. In the music video, which was released at the same time as the song, features Bieber and employees who were laid off due to the current global crisis. Bieber's soft voice blends well with Chance the Rapper's bold vocals, giving listeners an authentic experience. 
The song instilled a sense of confidence in the listeners that times will in fact get better and that they are not alone. Fans everywhere can feel blessed after listening to "Holy" and remain faithful that they will get through this tough time.
"Diamonds" – Sam Smith
Sam Smith also released a new single, titled "Diamonds," and even announced their new album, "Love Goes," set to come out Oct. 30. Smith's latest hit is an empowering one, as they explain leaving their greedy and dishonest ex behind and ultimately proves that they will survive without him.
In the song, Smith said "Material love won't fool me," and this remains the theme throughout the entire piece. Smith hits all the highs and lows, both in their pitch and relationship stages, showcasing their unique voice. Smith once again added a new hit breakout song to playlists everywhere with this upbeat and confident song. 
"Without You" – Luke Combs
For all of the country fans out there, Luke Combs put out his new song "Without You" and also announced the release of his new album, "What You See Ain't Always What You Get," which will drop on Oct. 23. 
Not only is the song a love-letter to his wife, Nicole Combs, thanking her for her undoubted support, but it also thanks his parents and large fan base. 
"Thank you to my family, my wife, and to my incredible fans for everything," said Combs in an Instagram post referring to "Without You."
Combs's distinct, raspy voice is well defined in his latest hit, giving fans a sweet country song that they often love from this artist. It is a heartfelt, slowed-down piece that is easy to listen to with anyone you love.
"Heaven & Hell" – Ava Max
Different from the country genre, pop singer Ava Max released her debut album titled "Heaven & Hell," which included some of her hit singles such as "Kings and Queens," "Sweet but Psycho" and "Salt." Max belts out in all 15 songs, which reveals her impressive range and provides a vibrant and exciting experience. 
"Kings and Queens," a single Max released back in March, reassures all women that they are not alone and they are strong without ever needing a man, or in this case, a "king" to control them. 
The other songs in the album follow suit, such as "Who's Laughing Now," where Max reminisces on her past life when she used to let others tell her what to do. However, now she has taken her power back and finds it almost amusing that at one point she cared what others thought. 
Max's album is the perfect "feeling yourself" collection of songs that everyone should have in their lives. In an age where people are constantly comparing themselves to what they see on social media, it's essential to understand that it's best to just focus on yourself, and Max's "Heaven & Hell" is an excellent reminder of this. 
Olivia O'Brien – "Now"
Olivia O'Brien's "Now" was another song to make the list for new music released last week. Similar to O'Brien's other songs, this piece reflects on a past relationship and all that she and her partner lost because of his poor choices. 
The lyrics, "Maybe we would be in love right now. Maybe you would be the one right now," represents all that O'Brien's relationship could have been. 
Her voice travels from a low, distinct voice in the verses to a more high-pitched melody in the chorus, showing off O'Brien's remarkable range.
Some listeners may recognize O'Brien from a song she was featured in titled, "i hate u, i love u," that she created with rapper Gnash. While this song is more of a soft-spoken, slow piece, O'Brien's newest hit takes back her power and leaves her ruined relationship behind. Another song to add to any breakup playlist is definitely "Now."
Leave a Comment
About the Contributor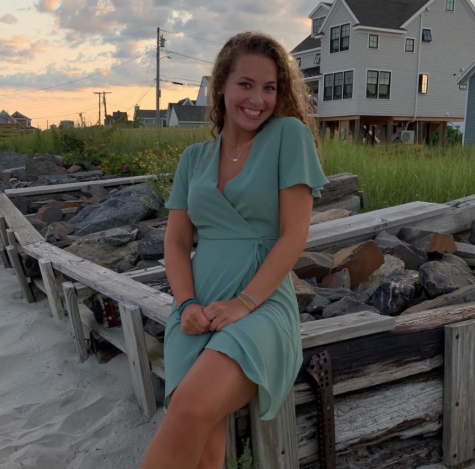 Roxanne Snowden, Staff Writer | she/her
Roxanne is a senior from Litchfield, Connecticut and is a broadcast journalism major. She enjoys spending time with family and friends, going to concerts, trying new restaurants and singing. Different from her small hometown, Roxanne loves being in the city, and one day hopes to work for ESPN and report on the sidelines of an NFL Super Bowl.

Follow Roxanne on Twitter @roxsnowden