Suffolk women's volleyball serves up comeback season
The Suffolk women's volleyball team said their goodbyes to seven seniors last season. This year they welcomed nine new players, including five freshmen, two walk-ons and two transfers.
At this time last year, the team had a 5-12 record. This year the team sports a 12-5 record, enough for second best in the Greater Northeast Athletic Conference (GNAC).
"You never know who the starting six is going to be," said senior captain Sarah Mullahy in an interview with The Suffolk Journal. "This type of climate where we're always working for our position has been great for everyone to step up and accept that challenge."
So far, the Lady Rams seemingly prefer the feeling of victory, as they have won eight of their last 10 games. The team is tied for both the most five-set matches and the most three set matches in the GNAC. The Rams have been able to beat teams handily, and weather tough nail-biting wins as well.
In all four of the team's five-set matches, Suffolk has emerged victorious. Just this year, the Rams were losing a match to Lasell 2-0, before rallying to win the last three sets and the match.
"I think that was a big testament to who we are and what we're going to do," said junior captain Hannah Fabiano in an interview with The Journal. "We're not going to let teams roll over us. We came here to finish this, we have something to prove."
Standout freshmen setters Kenzley Bell and Harmony Johnson have both been huge additions to a now-winning Rams team. Bell has 224 digs on the season for an average of 4.07 per set, ranking her fourth and fifth in the Greater Northeast Athletic Conference (GNAC). Johnson ranks fourth in the GNAC with 7.78 assists per set.
"College volleyball isn't all about the wins and losses," said Head Coach Scott Blanchard in an interview with The Journal. "It's about learning to play as a team, it's about learning to depend on each other, something this team has done since the beginning."
Blanchard is in his second year coaching the volleyball program. In his short time with the team, the Lady Rams have been more motivated than ever.
"We're not settling this year, there's no reason to," said Fabiano. "Everyone's just like 'what's next? What more can we do? How do we get better today than we were yesterday?'"
With the fourth most kills and the second most digs in the conference, the Rams are prepared to take their balanced approach farther than ever before.
"Not a lot of groups have this opportunity," said junior Dakhensey Marcellus in an interview with The Journal. "We have goals to break the Suffolk single season win record. We're also shooting to have a home playoff game as well."
Breaking Suffolk's 18-win season record set in 1997 would be just yet another milestone Coach Blanchard and the team have managed to accomplish in his young tenure. Next year, the team will be leaving the GNAC for the Coastal Commonwealth Conference, and plans on doing so in style.
"[By] Representing Suffolk, showing all of our hard work, proving a lot of people wrong, and going into a new conference we want to end this with a bang," said Fabiano.
The Ram's next game is this Saturday where they'll travel to take on the sixth ranked team Emmanuel College. The team will return to Regan Gymnasium on Oct. 9 to battle Johnson and Wales.
Leave a Comment
About the Contributor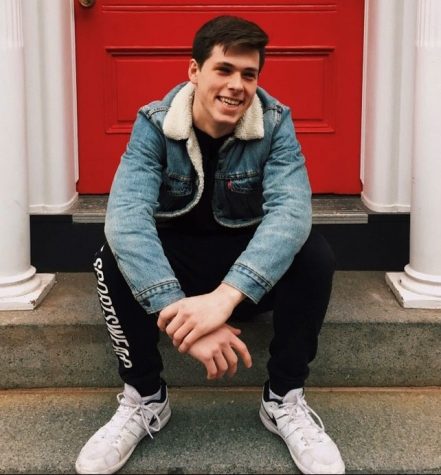 Andrew Laird, Assistant Opinion Editor | he/him
Andrew is a former New Hampshirite majoring in Journalism and minoring in English. When he's not reading or writing you can find him listening to jazz, going to museums and speaking passionately about his travels. One day Andrew hopes to obtain his doctorate in sociolinguistics.
Follow Andrew on Twitter
@The_AndrewLaird