'GRIT' disqualified
All four members of 'GRIT' ineligible after breaking first rule of election packet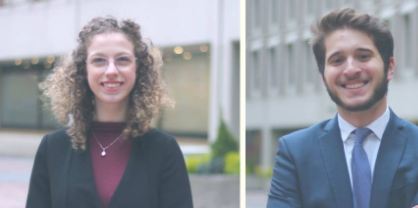 On Tuesday in a briefing released to candidates and sent to The Suffolk Journal, all members of "GRIT" were disqualified by Student Government Association (SGA) Student Judicial Review Board (SJRB) after weeks of hearings regarding eight appeals that were filed.
SGA executive board elections in March prompted controversy that spread across campus via word-of-mouth in the aftermath of team-like slate GRIT completing a full sweep of next year's executive board positions.
"It is the Student Judicial Review Board's majority opinion and decision (4-1) that the members of Team GRIT be disqualified from candidacy in their respective race," read a statement by SJRB Tuesday night.
Team GRIT, which composes of Logan Trupiano, Hope Burnside, Connor Peterson and Karine Kanjj, were the subject of these appeals, which SJRB deemed sparked two issues of consideration: did handing out lollipops to potential voters violate the first rule of the Elections Packet; are members of Team GRIT liable for the actions of an individual GRIT member? SJRB compiled their ruling based on hard evidence such as pictures, screenshots and Resident Assistant or professor testimonies. Other pieces of evidence were considered in the ruling, as SJRB said "character witnesses, character testimony, first-hand witnesses and second-hand witnesses were used to gauge the severity of the sanctions."
Rule one of the Executive Board Nomination Packet reads that, "Candidates or their supporters will not impede the progress of persons who wish to walk through the polling area. No slips of paper or novelties of any size may be handed to the potential voters passing through the polling area. This includes slips of paper attached to other items. No posters, flyers, slips of paper, may be hung at the express stations or computer labs."
SJRB reasoned that the distribution of lollipops by Burnside to students while "giving a speech about Team GRIT," violated this rule. The review board ruled that upon having purchased and handed out the "novelty items," Burnside informed Trupiano and Peterson of this. The statement from SJRB indicated that this situation should have been relayed to the Elections Committee. SJRB said that all members of GRIT "either knowingly or unknowingly failed to do so," according to the statement. It was determined that because information and knowledge about the passing out of lollipops was not reported by the other members of GRIT, SJRB ruled that all team members were at fault because of the implications that it might hold regarding election packet rule number six.
"Choosing to disqualify the winners of the election is choosing to ignore the voice of the students," said Trupiano in a statement to The Journal late Tuesday night. "GRIT is incredibly disappointed in the petty politics and the poor judgement displayed by SJRB. We are not sure what steps we will take moving forward. What we are sure of is that SGA has terribly mismanaged the situation."
Trupiano also said that GRIT is encouraging students to read the investigation report to see how SJRB came to this conclusion to disqualify the candidates.
SJRB addressed that in order to violate election packet rules, it would have to be determined what a "novelty item" means,  and concluded that this wording was put in place as a "catch-all" in order to ban anything besides paper to be given to students while voting in the "polling area."
"The generic lollipops became a novelty once it became associated with a cause or purpose," SJRB concluded.
Additionally, SJRB had to determine what constitutes a "polling area." While SGA bylaws and the elections packet do not define what a polling area is, SJRB made a decision on what has acted as the designated area in these past elections. Students voted in the elections on internet connected devices. SJRB determined that while using a device does not constitute a polling area, once the device is being used in an effort to vote, that is when a polling area is thus created.
"SJRB strongly recommends the Elections Committee reread the elections packet to address the ambiguity of the rules of campaigning. SJRB also recommends the implementation of a 'Candidate Conduct Screening' test for candidates who wish to run for the executive board of SGA," SJRB's statement read, and continued later in the document. "Word choices, definitions, inclusion of social media usage rules, and character screenings are some of the possible ways to update Suffolk University SGA elections process."
SJRB's statement outlined that the runner-up for each executive board position will be given the post. This would mean that if the role is accepted, Morgan Robb is president, Doug Botelho is vice president, Tyler Dahm is secretary and Michael Royce is treasurer.
"While this has been a long process, I believe that the SJRB has done their due process and talked to everyone involved. I am confident in their ability and grateful for their efforts in coming to a decision. I think that our student body needs to be led in an ethical way and I plan to do that," said Robb in a statement to The Journal late Tuesday night. "There is a lot of noise surrounding Suffolk right now, both inside and outside of campus, and [SGA] needs to be an example of a rule-following and stable organization. We need to hear the concerns of students and act in their best interests only. I am happy that I get the chance to do right by our student body and be the one to represent them."
Appeals within the allotted time frame in regards to SJRB's ruling after weeks of hearings and discussion would employ the office of the Dean of Students to make a concrete and permanent decision.
View Comments (1)
About the Contributor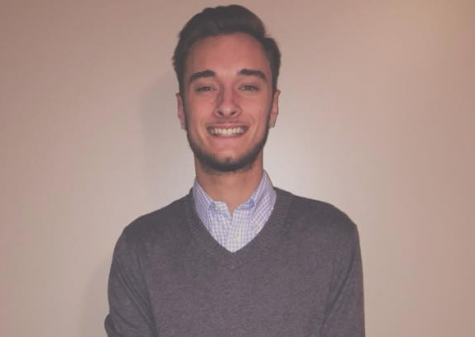 Chris DeGusto, Past News Editor
As someone who truly has no idea exactly what he wants to do in life, Chris' desire is to help those he cares about achieve their dreams. Chris welcomed a role that he never envisioned himself in; one that drives him insane.
Chris loves to tell stories, hence his passion: writing. If he's not in The Journal's office, you can find him catching up on the Sox or Celtics, studying the stock market or (unfortunately) riding the T to his favorite place in the world, Boston.
One day Chris hopes to write a book, well, actually finish a book he has already started. With a plan to travel the world and provide insight about his life experiences through his writing, Chris will always be attached to the city he calls home. And while he loves Boston more than anything, one reason why his book is not finished is because it doesn't have a suitable ending; he has a hunch that one day life will lead him to the west coast, to write him a new story.