Commentary: Baseball brawls are part of the game
Just like in many other mainstream sports, aggressive behavior is involved in the entertainment on the field. Baseball is not any different, especially when rivalries run deep.
The atmosphere is different in Boston when the Yankees are in town. Normally most games go without violence, but last Wednesday, Tyler Austin of the Yankees slammed his bat on the plate and took a few steps toward the mound after getting hit by a pitch, which was followed by some nasty words from Red Sox pitcher Joe Kelly.
Needless to say, Austin did not take his base, but rather, charged the mound.
The Red Sox and Yankee benches cleared twice last Wednesday, the first being after a heated discussion between Brock Holt of the Red Sox and Tyler Austin of the Yankees that amounted to nothing but a discussion. The second time came when Red Sox pitcher Joe Kelly appeared to attempt to retaliate by trying to drill Austin with two fastballs in the seventh inning, being successful once.
The Yankees outplayed the Red Sox for a 10-7 win. The Red Sox tacked a loss for the season, but gained something much better for their fans when it comes to games against the Yankees – publicity and an even better viewing experience for Boston Red Sox v. New York Yankees games. The game also did something crucial: add wood, if not gasoline, onto the fire that is the Red Sox and Yankee rivalry that dates back multiple decades.
Are fights, bench-clearing brawls and bad words exchanged between players bad for baseball?
As if it has to be put in print, unlike faster paced sports, baseball is a sport that takes more of an acquired taste to enjoyably watch.
"
As if it has to be put in print, unlike faster paced sports, baseball is a sport that takes more of an acquired taste to enjoyably watch."
It tends to be slow moving and viewers who are either not familiar with the rules, or are simply uninterested, may have a hard time finding the reasons why so many people would watch such a tedious exchange of balls being thrown past people, hit with a stick then picked up and thrown to another person.
But for those who watch hockey, is there not a hope that someone will drop the gloves? Or for those who enjoy Nascar, what if there is a pileup from one driver attempting to make a move past another? The possibility of drama between players or competitors, or something going horrendously wrong, is something baseball lacks in general. But as seen last Wednesday, baseball is much more entertaining with the possibility of a bench-clearing brawl.
Given the team's history, these types of incidents will only make watching the two teams compete more exciting. When there is a chance that relations between players may get dicey, those who are uninterested will have all the more reason to watch.
Both teams, being forces in Major League Baseball (MLB) contain some of the league's biggest superstars. The Yankees' acquisition of Giancarlo Stanton, one of the most renowned power hitters of our time, will supplement the already mighty power hitters Aaron Judge and Gary Sanchez who were on the Yankees roster prior to Stanton waving goodbye to Miami and welcoming his role on the Yankees with open arms. The Yankees also hold one of the most feared closers in the league, Aroldis Chapman, whose arm can hurl some of the swiftest fastballs ever in baseball, many of which exceed 100 mph.
Let us not forget that the Sox are not without talent. Though David Ortiz has retired, the Red Sox lineup has men who can swing it in J.D. Martinez, Mookie Betts and Rafael Devers.
Also, a solid pitching staff including the crafty Rick Porcello and Chris Sale and the gritty power throwing closer Craig Kimbrel.
Thus far, neither team has disappointed.
Both teams are expected to be stellar, and coupled with a harsh history; rivalries such as this one are just what baseball needs to keep viewers on the edge of their seats.
As tensions heat up, the spats, brawling and fist throwing that occurred last Wednesday are only the beginning. There are more than 100 games left in the season and the Red Sox will face the Yankees in sixteen of them – some of which may contain similar incidents.
Baseball has taken steps to curtail the danger of the sport, such as changing rules about sliding- which Austin may or may not have violated against Holt- to protect players against spiking, as well as making sure catchers do not receive throws from fielders while covering the plate, making them vulnerable to be run over.
But the MLB will never be able to outlaw rivalries, and two adversaries will always have tension. And with this, comes drama. Charging mounds, clearing benches and throwing fists will always be a part of the game, no matter how small an incident is.
And all viewers should be even more excited to cue in to watch the Red Sox take on the Yankees from here forward.
Leave a Comment
About the Contributor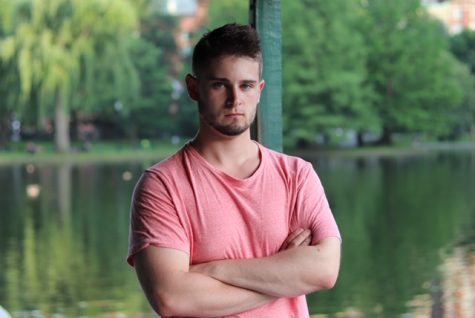 Ryan Arel, Former Senior Staff
Vermont native Ryan Arel is a former Arts Editor and former Opinion Editor for The Suffolk Journal. A print journalism major and economics minor, Ryan aspires to become a versatile writer who can cover any story of any topic that is worth telling.

Passionate about sports, photography, and history, Ryan also hopes to write and research in a way that makes complex issues easier for readers, and himself, to understand.

After leaving Suffolk, he hopes to work in the media field and stay in Boston, but he does not duck away at the idea of maybe traveling someday for work. When he isn't in the office, he can be found scream-typing homework assignments and stories, at the gym, watching "The Office" reruns or The Red Sox, his favorite sports team.

Follow Ryan on Twitter @ryanarel.