Article by: Mike Giannattasio
In what turned out to be an incredible season for the Suffolk University men's tennis team, the squad finished the regular season with a perfect 11-0 record and captured their second consecutive Great Northeast Athletic Conference championship.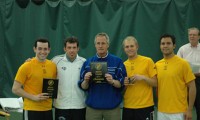 It was the first time the Rams finished their season undefeated in the program's impressive history; and they simply made it look too easy. The Rams won eight of their first nine matches by scores of 9-0, and 8-1, respectively.
Suffolk defeated Emerson College 5-4 on April 24 in the championship match. It took an unbelievable four and half hours to complete the contest, with the Rams getting contributions from every player on the club.

Senior Jared Orkin was named the Most Valuable Player as he won his tiebreaker singles set 7-6. Orkin came back after losing the first set, 6-4, before winning his second set, 6-2 to tie it. It was an extremely clutch performance for Orkin, who finished his season an amazing 10-0 overall in singles play.
Orkin also teamed up with junior Nick Pratt for a big win in doubles play. Both Orkin and Pratt won the match 8-2 and finished the season 4-0 overall in their doubles matches.
Junior John Samander also earned two points for the Rams in their clinching match as he won both his singles and doubles matches. Samander got his tenth victory of the season in singles matches for Suffolk as he won straight sets, 6-1 and 6-0.
Samander won the second doubles spot with sophomore Chris Staley. They won their match 8-6 and finished the season 11-0 overall. Samander also finished the season 10-1 overall in singles action, while Staley finished the season 6-4 overall.
Senior Justin Ayoub contributed for the Rams as well, getting an important point in the match as he was victorious in the sixth singles position; winning 6-2 in both sets. Ayoub is from Brooklyn, NY, and finished his season 9-2 overall.
Freshman Harlan Strader lost his first match of the season in singles play, as he was forced to retire in the second set of his singles match due to back stiffness. Strader was the GNAC Co-Rookie of the Year and finished his season 10-1 in singles play and 9-2 in doubles play.
Many other Rams players put up great overall stats all season long. Diego Alvarado (Boston, Ma) finished his season 7-4 in singles play and 9-2 overall in doubles play.
Ultimately, the Rams hope to get a healthy balance of contributions from next year's crop of players. Allan Wang (Taipei, Taiwan), Dachuan Zhu (Beijing, China), and Daniel Kelly (Nashua, NH), all had great freshmen seasons and will be expected to carry that over to next season.
More importantly, they will look to win their third consecutive championship next season. Steve Counihan and Isaac Stahl will both be returning to coach this talented squad, and will look to take the team one step further: the NCAA Division III tournament.