Body of Missing Man Found in Charles River
Suffolk community questions string of disappearances
The parents of Michael Kelleher, a 23-year-old resident of Southborough, Mass. who went missing from a Boston Celtics game last month, confirmed that a body recovered by state police Sunday morning was that of their son.
"Sadly, Michael was claimed by the Charles River the night of his disappearance," Mike Kelleher, Sr., Kelleher's  father, wrote in a Facebook post on behalf of both he and his wife, Lori Tavella Kelleher. "This morning, the river gave him back to us."
According to  a Spokesman for Suffolk County District Attorney's Office Jake Wark, authorities have not yet publicly identified the body as Kelleher's as "a matter of policy that extends to all death investigations in which there is no evidence of foul play."
"The Office of the Chief Medical Examiner has not yet made a determination as to the cause or manner of death but observed no signs of physical trauma," said Wark to a Suffolk Journal reporter in an email on Tuesday afternoon.
The Massachusetts Department of Conservation and Recreation (DCR), which manages the locks, directed a Journal reporter to contact the State Police Press Office, who in turn referred the reporter to the District Attorney's office. They did not comment further.
A Massachusetts State Police (MSP) press release from Sunday afternoon stated that a body was spotted by a passerby around 9:10 a.m. on Sunday in the vicinity of the Colonel Richard Gridley Locks, located at the mouth of the Charles River. The body was removed from the water by divers with the nearby MSP Marine Unit Headquarters, according to the press release.
Massachusetts State Police Troop H, the Suffolk County District Attorney's office and the Boston Police Department (BPD) are now handling the investigation jointly, according to Wark.
Kelleher was last seen on surveillance footage leaving TD Garden around 9 p.m. on March 29. A female coworker who was with him at the game that night told multiple news outlets that Kelleher left during the third quarter after having "a few drinks." Both Lori Kelleher and police have said that phone records show Michael tried three times unsuccessfully to call an Uber from Paul Revere Park, a short walk from the Garden. His cell phone's signal was last picked up near 138 Tremont St. by the eastern edge of the Boston Common around 11:00 p.m.
Divers previously searched the Charles near the Garden on April 3 without success, according to CBS Boston.
"We get notified about [disappearances]," said Suffolk University Police Department (SUPD) Sergeant Jameson Yee. Yee, a Suffolk alum who began his tenure as a security officer in 2008, told a Journal reporter in a recent interview that the department is ready and willing to assist local authorities in any investigation.
Kelleher's disappearance comes just a year after a similar case made some believe that there was something far more sinister occurring in the city.
Zachary Marr, a 22-year-old from Harvard, Mass., disappeared in the early morning hours of Feb. 13, 2016 after he left the Bell in Hand Tavern near Faneuil Hall without a coat. He was caught on surveillance footage outside the Boston Public Market around 1:40 a.m.
While no other footage was released, police confirmed that they had obtained footage of Marr "entering the water" near the North Station railroad bridge – about 500 feet from the locks, according to multiple news sources. His body was found on Mar. 15, 2016, by the area where Kelleher was found.
Marr's death was later ruled accidental.
Before Kelleher, Marr's disappearance was the most recent in what some see as a troubling pattern. Since 2001, 17 men have gone missing in Boston and its suburbs. The victims, ranging in age from 18 to 65, were all found deceased in a local waterway, usually the Charles River or Boston Harbor, according to news sources.
Most of the victims – all but two – were under 36, and were young professionals or local students. Most had consumed alcohol before their disappearance, but in most cases, witnesses describe the victims as having been far from intoxicated. While some disappearances break the trend, almost all of them occurred between October and March.
"The concern isn't that this could happen to our students specifically, but that it could happen to anyone. A lot of these disappearances have involved alcohol – usually the person has been out drinking, partying with friends. They end up leaving on their own," said Yee.
Yee advised students to be attentive to their surroundings, and added that distracted pedestrians are often easy targets for would-be opportunist criminals.
There are plenty of other ways to stay safe on campus as well, Yee explained. Suffolk's LiveSafe app, which allows students to request police escorts and report tips to SUPD, is available for free on both iOS and Android devices. Even with Yee's reassurance, students differ in their feelings about the disappearances.
"We have a strong relationship with our campus agencies, partners, as well as local and state authorities which allows us to better help both our students and the community," Yee said. All sworn SUPD officers, he explained, are deputized as Suffolk County officials, giving them the same enforcement powers as the sheriff's office. They've also received the same training as the Massachusetts State Police, and work closely with BPD in both regular patrol of city and ongoing investigations.
Yee stressed that he doesn't see any reason for "escalated concern," but added that all students should heed the advice he gives to freshmen at orientation every summer: stay in groups, stay alert, and stay in control.
"I'm inclined to believe it's coincidental, but it's intriguing that they were all ruled accidental," said August Tucker, a sophomore from Portsmouth, N.H. majoring in government.
Tucker, who resides in East Boston near where the body of 24-year-old David Mark was discovered in 2011, understands why some are concerned and said that he believes that college-aged students are the "most vulnerable" to attacks in the city.
"It's sad for their families, but I don't see anything that strange about it," said Matt Calise, a freshman Politics major from Johnston, R.I., who has lived on campus this year. He echoed a reality that many in Boston are just starting to face. "People disappear all the time."
Leave a Comment
About the Contributor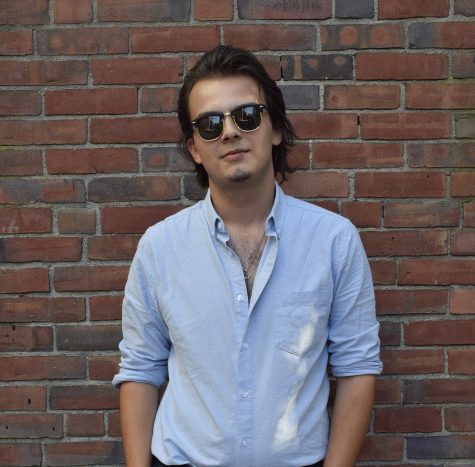 Nick Viveiros, Senior Staff Writer
Nick Viveiros is a senior majoring in Politics, Philosophy & Economics and Journalism. Born and raised in Fall River, MA, he began writing for the Journal in the fall of 2016.
Nick published his first book, the poetry collection this new world, during his first semester of college. His second book, Love Across the Zodiac, was released through his company, Quequechan Press, in mid 2019.
Follow Nick on Twitter @thenickviveiros 
or head on over to his website, nickviveiros.org