Article by: Alex Mellion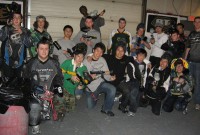 At first, a sport that requires you to run around and shoot your opponents with balls of paint may not seem appealing to the average athlete, but paintball has quickly caught on around the country and is becoming a popular sport.  Suffolk University junior Eric Fernberg was an avid fan and wanted to start a paintball team on-campus.
"I have always loved paintball and have played for about six years," Fernberg said. "I wanted to start a club at Suffolk so that I can see who else played."
He took the necessary steps to form a new club on campus, which included writing a constitution, forming an E-board and getting ten people interested in joining.  Once he completed all those steps, the Suffolk University Paintball Club was officially formed.
Interest in the club was at first limited to just people who had prior experience, as few people wanted to join and try to learn how to play the sport.  During this semester, however, interest spiked as Fernberg was able to get funding from the school, which allowed 20 people to play for free with everything (face mask, paintballs and paintball gun) included.
The club has grown exponentially and now boasts about 70 members, according to Fernberg.
"The club is open to absolutely anyone that wants to learn or play paintball," he said. "I welcome anyone that wants to play so that I can do my part to help the paintball industry grow."
Paintball is a fairly new sport, and has only been recognized as an official sport since 1981, according to the website HowStuffWorks.com. There can be no physical contact between members of opposing teams, and the team sizes vary according to game format and level of play (recreational or professional).  Originally thought to be just another flash-in-the-pan sport, paintball has caught on and increased in popularity over the years.
The Suffolk team currently plays their matches at Boston Paintball Indoor, located in Everett.  Fernberg is currently trying to get the team into a national league to compete against other schools.
"I am trying to get the team into the National Collegiate Paintball Association," Fernberg said. "There are a bunch of colleges around Boston that have teams, so it would be cool to have a team that competes against them."
Judging by the reaction of the Suffolk community and around the country, the sport of paintball isn't going anywhere soon.  Like sports such as football and basketball, paintball is a physical team game that requires both strength and agility.
For more information or to join the team, contact Fernberg at [email protected].