Brillaud, Lady Rams win quarterfinals against Rivier
The women's basketball team got their revenge against the Rivier Raiders in the GNAC quarterfinals.
The Lady Rams lost to the Raiders last Thursday, 72-55. Coach Ed Leyden appeared more than content with the Lady Rams' performance defeating the Raiders, 60-45.
"They're a high-scoring team. Last week they just had their way with us," said Leyden.
An unlikely hero, forward Tori Brillaud, who is known for rebounding more than anything else, won the game for the Lady Rams. She led the team in scoring with 18, and had 13 rebounds.
"I'm happy for her," said Leyden. "She does all our dirty work, she rebounds, she fights, and she motivates. I've been a big Tori fan for four years … I was glad she got a day in the sunshine."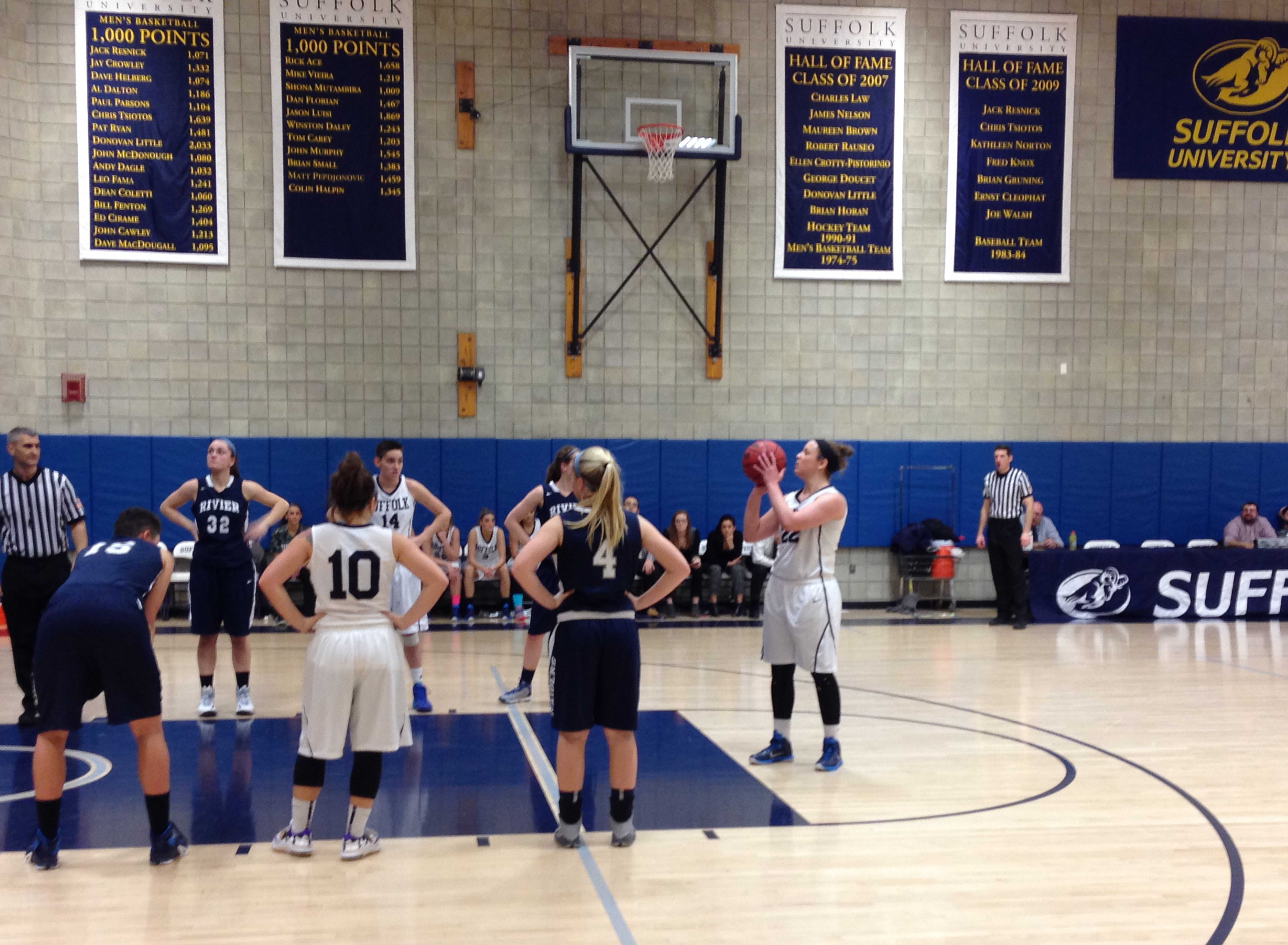 Brillaud has been one of the most physical players on the Lady Rams, always fighting for rebounds, and diving for loose balls.
The senior from North Andover did not record double-digits in scoring this season. The most points she had scored in a game this year were nine against Regis College.
Her play in the closing minutes was physical, which sent her to the line for a game total of 11 free throws. She scored on eight of them.
"She's worked on her foul shot and today it won the game," said Leyden.
The biggest play of the game consisted of Brillaud drawing the hard foul and making a tough basket for a three-point play. The Lady Rams controlled the game from there.
Leyden always talks proudly about his team post-game, but Tuesday night was more special. Making the conference semi-finals was not just another win for the Lady Rams.
Everyone in the gym could hear the women in the locker room cheering with excitement after their big win. Leyden stressed the team unity and the fight the girls play with.
"We really stress defense, rebounding," said Leyden. "This is a really together team. The team is very, very close. We thought those were our only weapons against a team that can score a lot of points. The kids defended constantly the whole game. We did not give them one easy basket."
Tuesday was the only night to celebrate. Wednesday, the Lady Rams will have to prepare, because No. 1 seed Emmanuel is waiting for them Thursday night.
Jan. 29, the Lady Rams lost by 20 points to Emmanuel. Leyden does not appear shaken by the challenge, but aware of how talented Emmanuel is.
"Sooner or later you have to go through the Fenway," said Leyden. "We do the same thing: we have to play team basketball, defend and fight. We're going to play to win and that's that. We're going to do everything we possibly can to win."
Leave a Comment