Studio 8H celebrates 40 years of SNL greats
Name-dropping, nostalgia and nonsense filled Rockefeller Center's Studio 8H on Sunday as "Saturday Night Live" celebrated its 40th Anniversary. From Steve Martin to Melissa McCarthy, the trailblazing comedy show showcased a three and a half-hour long marathon of resurrected skits, monologues by the show's iconic veteran hosts and a dicey reference montage of current events.
As the reunited stars returned to the set where their comedy careers took off, they celebrated each other on-stage by screening familiar footage and participating in seemingly never-ending sleight of hand trick banter with one another. The show, while it was likely hoping to appeal to all audiences, truly was a "thank you," not only to the cast who made it happen but to the devoted fan base who kept the show alive.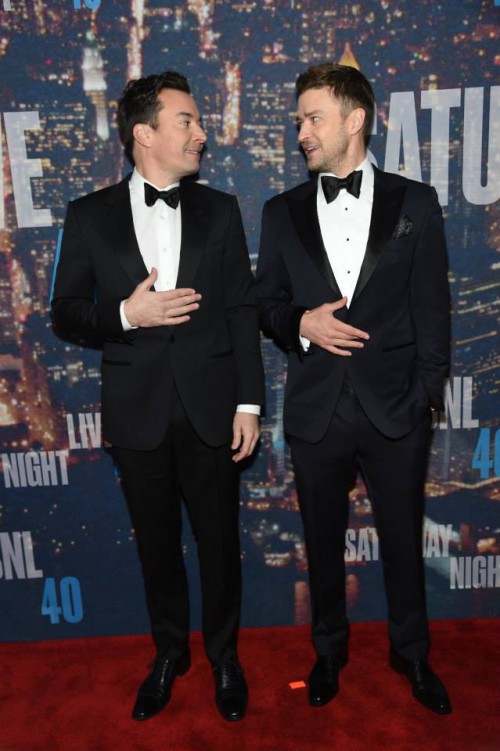 Kicking off the telecast with a musical medley of rap, country, hip-hop and all other genres in their musical tool belt, Jimmy Fallon and Justin Timberlake sang their way through catchphrases, milestone sketches, embarrassing soliloquies and dance moves that were both hysterical and animated. While hats-off to both Fallon and Timberlake's upbeat ditty, Rachel Dratch's mid-song appearance as Debbie Downer captured the unpredictable and party crasher essence of the show since it began in 1975.
"Sadly, history has taught us that opening the show with a musical number leads to sharp drop in ratings, womp-womp," she droned to the laughing crowd.
Chronicling the last four decades of its history, the show found clever ways to pay homage to their dramatic and innovative present and past caricatures. While it was somewhat a mixed bag of highs, lows and the occasional benched star that didn't quite fit into the cackling line-up, one of the longest running series on U.S. television and winner of 36 Emmy Awards chose artists, Paul McCartney, Miley Cyrus and Paul Simon for some of the sought-after musical slots.
Though one of the stand-out moments of the night was when SNL raided the costume closet for old characters which were present in the reminiscent video package segment, the audition reel of young hopefuls, including Amy Poehler and Jim Carrey, added an element of authenticity and reminded both viewers and SNL successors how far the show has come and the role it played in thrusting its cast members from stage to stardom.
When it came to choosing the live sketches to be featured at the event, the giddy band of jesters, pop-culture favorites and veterans chose side-splitting skits, "Celebrity Jeopardy," "The Californians," and "Wayne's World," coupled with the long-standing "Weekend Update" segment which was taken over by humor heroines Amy Poehler, Tina Fey and Jane Curtin.
Ferrell's impression of Jeopardy host Alex Trebek has exhausted himself on Studio 8H's stage many times as he dealt with the foolish class of comedians SNL plucked to graze the line of scandal and comedy. Frantically hosting his way through yet another hilarious question-answer parody, Ferrell faced off against Darrell Hammond as Sean Connery, Norm Macdonald as Burt Reynolds, current cast member Kate McKinnon as Justin Bieber, and three-time host Jim Carrey as Matthew McConaughey. While each of them wreaked absolute havoc on the famous game show stage, SNL's Kenan Thompson dressed as Bill Cosby in a video "Daily Double" question emphatically captured the essence of the show's notorious pressing up against or even crossing the line of social indecency pandemonium.
The special also provided punch lines and a recollection of past glories that came alive in SNL's new digital short, the power ballad "That's When You Break," which poked fun at all the laughs cast members let slip during scenes.
While laughs were certainly bellowing Rockefeller Center's Studio 8H, Jerry Seinfeld, who hosted the Question and Answer session, was somewhat tongue-tied while fielding questions from audience members like Michael Douglas, John Goodman, James Franco, Larry David, Tim Meadows, Dakota Johnson and Sarah Palin. His cheekiness and incomparable ability, however, to hopscotch his way through even the most delicate social issues like women's rights and Sarah Palin's request to help get SNL producer, Lorne Michaels, on-board to pay for her to run for president in 2016 with Donald Trump as her running mate, definitely played a role in the show's overall success.
"I don't think there's a number too big," Seinfeld hilariously replied.
The 40th anniversary's memorable and bizarre renditions of performances that changed the landscape of TV comedy was endearing, daring and dumbfounding. Harnessing the old and the new, the star-studded event was a special like nothing else.
Leave a Comment