Patriots head into bye week on top
By Ian Kea
After an unexpected 22- point win over the conference leading Denver Broncos, the Patriots look forward.
After strengthening his already stellar and unprecedented resume on Sunday with four scores through the air, Brady and the Patriots will take it easy this Sunday as they enter their bye week in preparation for a primetime game in  Indianapolis to face the Colts.
Although Brady has never won in Lucas Oil Stadium since its opening in 2008, the Patriots have a golden opportunity to do so in two weeks as they have never looked this elite on both sides of the ball since the Super Bowl winning days.
The Patriots have never had a squad so balanced with so much depth on defense in years.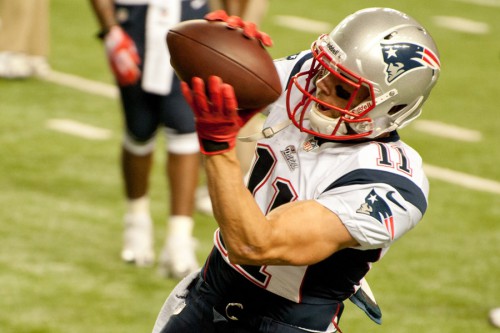 With two new starting corners in Darrelle Revis and Brandon Browner, the Patriots are able to be heavily physical and create turnovers such as the one from Sunday where safety Devin McCourty popped former Patriot, and current Broncos wide out, Wes Welker and the ball was tipped and picked off by Browner which setup a Gronkowski spike in the end zone.
The Patriots have a greatly improved secondary and have a turnover differential of plus 12.
After such a resounding win, they have all the pressure upon them now to finish out the season and take the first seed in the AFC for the playoffs.
Last year, after defeating the Broncos in overtime at Gillette, the Patriots later gave up home-field advantage by losing to AFC East rival, the Miami Dolphins. This resulted in the Patriots being dominated in Denver for the AFC Championship, which made for a lot of speculation surrounding the future of Tom Brady and company.
The doubt has surpassed for now though, as Brady has been on a roll. After being named offensive player of the month for October, not only do the Patriots control their playoff seeding, but also it seems as if Brady controls the MVP race.
Standing at 7-2, with seven games to go, the Patriots now control their destiny for playoff seeding, but first they'll have to make some uncomfortable stops.
The next four games come against the Colts, Detroit Lions, Green Bay Packers and San Diego Chargers. The Patriots will be on the road for all of these matchups except for the Lions. This road trip should show the Patriots' mental toughness.
They have done all the setup, the preparation, now is the time to execute.
Leave a Comment