UFC 179: Brazil to host stacked fight card
by Sammy Hurwitz
Rio De Janeiro, Brazil will play host to one of the biggest fights of the year, in the form of the UFC featherweight championship. Longtime reigning belt-holder, Jose Aldo "Junior," will defend his throne against Chad "Money" Mendes.
Aldo is widely regarded as one of the best pound-for-pound fighters on the planet (ranked No. 2 by UFC.com), and with good reason. Sporting victories over huge names such as Urijah Faber, Frankie Edgar, Kenny Florian and most recently Ricardo Lamas, it's been a while since anyone has come close to beating the champ.
Enter Mendes. In January 2012, a young Mendes was brutally knocked unconscious courtesy of an Aldo knee. Now, more than halfway through 2014, Mendes is a new man. His striking has improved, and he's no longer a one-dimensional fighter bound to his wrestling background. Mendes is a true mixed martial artist, in that he can win in a variety of ways. In his last three fights, he's knocked out Darren Elkins, earned a TKO over Glay Guida and out struck and out wrestled Nik Lentz for a hard-fought unanimous decision win. So, good luck finding holes in "Money's" game.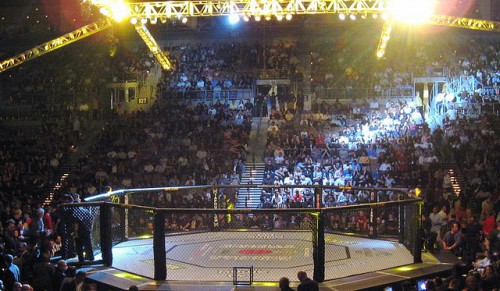 Earning a victory over Aldo is not — and never will be — an easy task. The champ, who, by his standards, is on a bit of a cold streak, finishing just two of his last six bouts, is still the most dangerous 145-pounder out there. Fifty-eight percent of Aldo's professional MMA victories have come by way of knockout, with just 8 percent of victories due to submission.
Interestingly enough, a little known fact about the Brazilian-born Aldo is, despite his plethora of knockouts, his background is in Brazilian Jiu-Jitsu, in which he has a black belt. His dangerous ground game has forced opponents to keep fights standing, an, in turn, Aldo's striking has become elite.
At 28,  "Junior" shouldn't be slowing down anytime soon, and will surely put on a show for his home-crowd with Mendes on Saturday.
In the co-main event of the evening, standout former Penn State wrestler Phil "Mr. Wonderful" Davis will look to rebound against a top-contender in Glover Teixeira.
Davis — known for his bubbly personality and bright pink fight shorts — is coming off a lopsided loss at the hands of Anthony Johnson. He was unable to take down Johnson, who seemed to drill "Mr. Wonderful" with shots every time he attempted to close the distance. After the frustrating defeat, it was back to the drawing board for Davis, whose game is often referred to as one-dimensional, as he is known to heavily favor wrestling.
Opposite Davis, will be Glover Teixeira, the Brazilian Nova Uniao product with a whopping 20-fight win streak, before he ran into Jon Jones, who defeated Teixeira in a five round war, in April. With victories over the likes of Ryan Bader, Sokoudjou and Quinton "Rampage" Jackson, Teixeira boasts quite the résumé.
The fight between him and Davis will largely help to paint the contender picture in the light heavyweight division, and with the likes of Daniel Cormier and Alexander Gustafsson also weighing in at 205, every win is huge.
It should be another memorable night for the UFC on Oct. 25, as they will once again travel to Brazil. With the featherweight belt on the line, as well as plenty of other big fights, UFC 179 is must-see TV. Expect fireworks, as the Brazilian crowds never forget to bring the noise.
Leave a Comment