By Sammy Hurwitz
It's over. Derek Jeter's career ended on a high note, as the 20-year Major League Baseball veteran was removed from Sunday's ballgame after hit number 3,465. His "un-Jeter-like" season concluded, also, with a New York Yankees victory.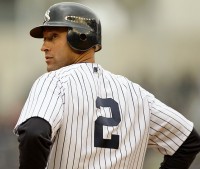 After a fist pump and one final moment in the pinstripe uniform, he tipped his cap, and well, that's all she wrote.
The game, one which the schedule makers — last October — probably assumed would feature postseason implications, was essentially a send off party for Jeter.
It featured appearances by former Red Sox captain Carl Yastrezemski, former Boston Bruins defenseman Bobby Orr, former Boston Celtics captain Paul Pierce, former New England Patriots wide receiver Troy Brown, and of course, David Ortiz. It was a nice gesture, as the stars were able to honor Jeter.
Michelle Brooks Thompson, Jim Rice, Jason Varitek, Fred Lynn and Tim Wakefield were other notable attendees, amongst others.
Jeter's numbers fail to tell the entire story.
A .256 average and a -0.1 WAR are numbers that Jeter is not used to putting up, however, it's not the numbers that make this season so abnormal for the critically acclaimed shortstop.
Over the past 20 years, fans have known Jeter as a quiet leader who prefers to keep to himself.
The famous No. 2 always had that cool vibe to him, too. Whether it was his Jordan brand cleats and wristbands, his ever-revolving door of famous significant others, or the fact that he seems to have ice in his veins during every big moment; Jeter is cool.
It wasn't until Friday, game one of this weekend's series with Boston, when Jeter began to break. He asked manager Joe Girardi for a day off.
For those who have not chronicled the career of Jeter closely, this is unheard of. With all the commercials, all of the attention, all of the talk of retirement and all of the speculation of who put Jeter up to the fiasco that was the Jeter Show, the hero was broken.
It all began in February when Jeter's retirement was announced to the public. Regardless of whose decision it was to announce to the public that this would be the final year for the shortstop, this season would have looked a lot different if fans had found out after the fact.
Notwithstanding, what's done is done, and while some fans may have hated Jeter, others loved him.
Overall, the Jeter farewell was extremely overdone. He's not dying. He will be back. We will hear from the future Hall of Fame player again. That is a promise.
Jeter is an incredible baseball player and an admirable person. He will be remembered not only for his incredible numbers, but also for his leadership, contributions to the community and love for the game.