Boston Bruins out-shoot, defeat Florida Panthers
SUNRISE, FLA. — It may have been bobble-head night for recently traded goalie Tim Thomas, but Roberto Luongo was in net for the Florida Panthers (24-33-7) against the Boston Bruins (41-7-5) on March 9.
The Bruins came off a huge overtime win against the Tampa Bay Lightning, which meant goalie Chad Johnson would start over the resting Tuukka Rask.
The game was lopsided right out of the gate, with the Bruins besting the Panthers 12-7in shots on goal in the first period. Nothing was getting past Luongo, but the Bruins did come close with a shot off the crossbar by Loui Eriksson.
The biggest moment of the period was Bruins forward Daniel Paille getting knocked out of the game from a check into the glass by Panther defenseman Ed Javonoski.
Things would liven up in the second period as the Panthers took advantage of the Boston backup goalie, as Jimmy Hayes scored the first goal of the game to put the Panthers up 1-0 in the second period.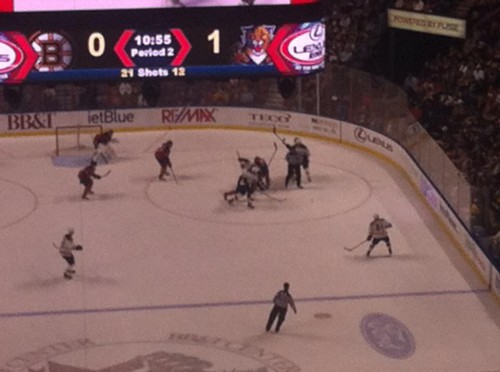 All the shots on goal would pay off just three minutes later for the Bruins with an Andrej Meszaros goal to tie the game 1-1.
It was all Bruins the rest of the night including a nifty goal minutes later by Torey Krug after receiving a spinning pass from Brad Marchand. The Bruins took a 2-1 lead into the final period of play.
Carl Soderberg, the unsung hero of the game, showed plenty of hustle all night and later in the period knocking the puck out away from Luongo to maintain possession that resulted in a power play goal by Patrice Bergeron.
The Bruins didn't hold onto their 3-1 lead very long, however. Moments later, Hayes scored his second goal of the night to make it a one-goal game.
The puck was flying at that point, as Boston forward Jerome Iginla scored a goal seconds after Hayes to give the Bruins a 4-2 lead in the final minutes of the game.
Boston scored an empty net goal to seal a 5-2 victory over the Panthers.
The Panthers, ranked No.27 in points in the league, gave Luongo his first defeat since he was traded to Florida.
The Bruins will face the Montreal Canadians on the road this Wednesday. Rask will be well rested as the Bruins go for six wins in a row.
The Canadians are No. 3 in the East and give the Bruins a hard time as history has shown as well as this year. The Bruins are 0-2 against their Canadian rivals, and will have to deal with the rowdy Montreal crowd. Boston will need its red hot offense to come alive on the road. The Bruins are averaging about four goals a game over their last five contests.
Leave a Comment