Red Sox bounce-back season moves towards playoffs
As Major League Baseball winds down its regular season, post-season matchups are becoming clearer, and teams are fighting for their proverbial lives. With the new extended wild card this year, teams who are usually looking up from the middle of the standings have a chance to grab a second spot. The new wildcard format will include two teams capturing a birth to a stress filled and matchup based one game playoff to determine who will play in the ALDS.
One of those teams that doesn't have to worry about capturing a wild card spot are the back-from-the-dead Boston Red Sox. After a disastrous and embarrassing 2012 campaign which included a historic September collapse, a clown of a manager, and a beer and chicken rebellion amongst players and management.
Some much-needed extermination of all that was poison in the Red Sox clubhouse was needed after the soap opera that was Fenway Park's 100 year anniversary. Players with loaded contracts got dumped away to the Magic Johnson-driven Los Angeles Dodgers. Those players include Josh Beckett, Adrian Gonzalez, and Carl Crawford. Having the luxury of dumping over $200 million in salary was a gift from the baseball gods. The Red Sox and GM Ben Cherington quickly flipped that cap space into vital role players that have been a core piece of this year's first place team.
One of the many new-comers to Boston that has made a big splash is first baseman Mike Napoli. Napoli over the years had traditionally played catcher but the Sox decided to move him and his power to first base. The transition has been smooth for Napoli who has played a solid corner infield this year. Where his presence is really felt is at the plate. The former all-star has belted 22 loud home-runs this year and is closing in on 90 RBI. His mammoth home-runs are a spectacle in the Boston night sky, and many of them have come in clutch spots.
Speaking of clutch players, another fresh face to Fenway, along with another un-tamed beard is Johnny Gomes. Gomes has been an on and off starter in left field, often platooning alongside Mike Carp. Gomes has blasted a dozen homeruns and driven in 49 team members in 108 games. Two walk-off home runs in a span of two weeks in July sparked the team to a solid month of baseball in August. The team has not cooled down in September.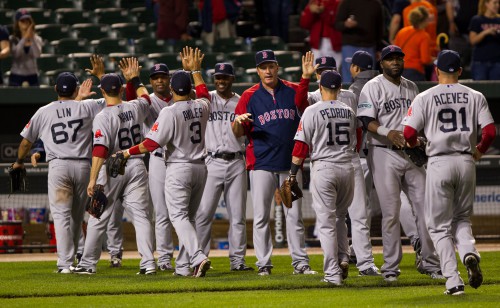 So many players have contributed to a Major League best 91-59 record which includes a nine-game lead over the second place Tampa Bay Rays. This season has highlighted the play of Mike Carp, who gives one of the most professional at-bats on the team. Shane Victorino has been a defensive animal in right field, although he has battled injuries all season he has been playing almost every day and was nominated for player of the month in August. Shortstop Steven Drew (yes, brother of JD) has been solid in the field all season. Drew has also been a big contributor offensively stroking 12 homeruns and plating 62 men.
Other players who have raised their game have been outfielder/first baseman Daniel Nava and Jarrod Saltalamacchia. Nava is hitting over .300 in 123 games this year. The catcher  Saltalamacchia has been a switch hitting force at the plate with 13 home runs and 60 RBI.
Obviously the Red Sox have turned it around this season and a big part of that has been manager of the year candidate, John Farrell. Farrell was a long-time pitching coach for the Red Sox before becoming the manager of the Toronto Blue Jays in 2012. Farrell was acquired by the Sox in the offseason for utility infielder Mike Aviles. A new coaching staff has handled a very closely-watched 2013 season for a team having something to prove after their meltdown at the end of the previous year. Relatively new GM Ben Cherington has succeeded in compiling a group of guys who have good attitudes and genuinely like each other…it's just a bonus that they're playing championship caliber baseball.
The Red Sox rank as the fifth-best pitching staff in the American League, and are the most prolific offense in all of baseball. The BoSox have scored 782 runs this season, 37 more than the second place Detroit Tigers. The Sox have hit 339 doubles, 27 triples. 162 home runs, and are hitting .276 as a team.
Classic staples in the Red Sox line-up still remain in David Ortiz, Dustin Pedroia, and Jacoby Ellsbury. All three players have had noticeable seasons. Pedroia and Ellsbury have both had gold glove-caliber years along with solid numbers at the plate. And all David Ortiz did is miss the beginning of the season yet leads the MLB in intentional walks while slamming 27 dingers, driving in 92 runs, and hitting .309.
You could say this year has been a turnaround year from a sloppy 69-93 record last season. Baseball is back in Boston and the city is poised for postseason play for the first time since 2009. After the tragedies that transpired earlier this year, the Red Sox have embodied the Boston Strong brand. Adorning their sleeves every night is a Boston Strong patch, along with a jersey hanging from the dugout no matter on the road or at home that is numbered 617 with Boston Strong surrounding it.
The ballpark is electric again and beard pulling has been a norm in the surrounding areas of Landsdowne Street and Yawkey Way. The guys in red are closing in on their first division title since 2007. The Yankees sit in fourth place scratching and clawing at that second wild card.
Now we simply get to enjoy Mariano Rivera's farewell to Fenway and pretty soon, all of baseball. While Rivera hangs it up, Koji Uehara is unraveling himself to be a stud of a closer in Boston.
The next step is to whittle that magic number down to zero and wait to see what the magic of October brings to John Farrell and his band of bearded men.
Leave a Comment