Divided We Play, Together We Stand: The Sporting World Reacts to Boston Marathon Tragedy
Matt Bacon Sports Editor
Alex Hall Managing Editor
The events that happened at the Boston Marathon this Monday were horrific. Not only the city of Boston, but the entire nation was hit with a shocking blow each time the news replayed the video of the bombs going off.
In troubled times like these, it is always heartwarming and inspiring to see how different communities band together and become one. Two soldiers, after helping to rescue people from the debris and chaotic aftermath of the explosion, ran all the way to MGH to immediately donate blood. Thousands of Bostonians turned out on Tuesday to donate blood of their own. At Suffolk University's blood drive, appointments were booked up for the day by 11:30 a.m. and were not accepting walk-ins by 1 p.m. due to the amount of students already donating.
Despite being a diverse, often fractured community, barriers immediately disappear during times of crisis. This is also true of the sports world. Usually divided by cities, states, or nations in constant competition, the sporting world came together almost immediately to help pull its brothers and sisters in Boston through these hard times.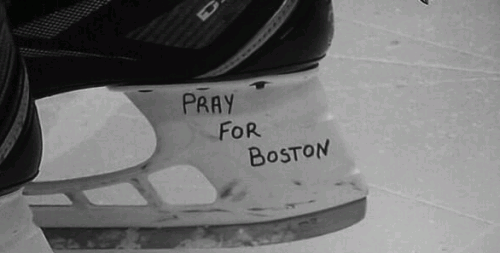 In Chicago, the Tribune ran a full-length, half-page ad on the front page of the sports section stating "We are Chicago Red Sox. We are Chicago Celtics. We are Chicago Bruins. We are Chicago Revolution.," followed by a heartfelt message of support to the people of Boston.
Sports Illustrated posted its cover for this week's issue, which is the iconic photo of Boston Police officers helping a marathon runner to his feet shortly after the blasts.
Around the major sports league's currently in session, teams paid their respects and support for the Boston community. Stadiums from Montreal to Anaheim held a moment of silence before their games to honor the victims and their families. At Yankee Stadium on Tuesday, the Red Sox' biggest rival had a moment of silence before playing the Diamondbacks and then played Neil Diamond's "Sweet Caroline" in between the third and fourth innings out of respect to Boston. The Braves, Athletics, Marlins, and Cubs also played the Fenway Park favorite during their games the same night.
Players from Boston and just about everywhere else took to Twitter, expressing support and solidarity for the Boston community. Sports figures from Muhammad Ali to Chad Ochocinco to Jeremy Shockey expressed grief and support via Twitter. New arrival to the Patriots Danny Amendola has promised to donate $100 for every catch and $200 for every drop he makes next season to a Marathon victim charity. Phoenix Coyotes player and Milton, Mass. Native Keith Yandle skated Monday night with "pray for Boston" written on his skates.
Perhaps the most inspiring tweet came from Red Sox third baseman Will Middlebrooks when he posted "I can't wait to put on my jersey today… I get to play for the strongest city out there. #BostonStrong." In one tweet, Middlebrooks expressed the sentiment of a whole city. Bostonians have arisen from this tragedy strong, resilient, and more proud of their city than ever.
It might sound silly, but sports have helped Americans through crisis before, and will do so again for the city of Boston in 2013 and beyond. Sports have an oxy-moronic effect in these kinds of situations. They represent an escape from reality, the couple hours of the day where we can sit back, crack a cold one, watch a game with some friends and forget about our troubles. But that escape is also a return to normalcy, to the reality of the world prior to this tragedy. The world of sport is one of ritual and traditions, virtues that provide us with security in an uncertain world.
The sports world showed its true colors on Monday. Differences were put aside for a greater cause, and the community banded together to support people who really need help right now. Age-old rivalries were put aside, retired and current players reached out in support of the city and fans from all over have banded together. The best visual representation of this was this beautiful cartoon done by The New Yorker in which a Yankee fan and his daughter are walking wearing their team's hat with Red Sox logos on their shirts. The quote from the father is "Yes we like the Yankees, but today we are all rooting for Boston." The sports world is indeed united right now and did so mere hours after the tragedy on Monday.
It is a shame that we at the Journal must cover such a terrible tragedy for our last issue of the year. But at the same time, it is a privilege to be able to write about the brave response of Bostonians and the incredible resolve this city has shown over the past couple of days. Like Will Middlebrooks, we are proud to be Bostonians, and will hold our chins higher than ever. With help from each other, and the sense of community surrounding our sports, the city of Boston will prevail, and show whoever committed this senseless act of terror that Bostonians will not be defeated.
Leave a Comment