Suffolk University women's volleyball team is coming into their final games of the season.
The Lady Rams (10-16) have three games left on their schedule, one being a late game Tuesday, and the final matches on Saturday against Framingham State and Eastern Connecticut State. The Lady Rams have put themselves in a hole after going on a seven-game losing streak. Team captain Colbey Kennedy does not really view the season as a failure.
"Overall, although our record wasn't fantastic, this has been the best season, in my eyes," said Kennedy, a junior. "It's disappointing yes, because we have so much talent and our record did not reflect that. Given half our starting line-up was benched due to injury, we struggled to keep people in specific spots and everyone was moving around."
The Lady Rams have been having trouble all season long staying healthy, which in the world of sports is beyond the control of coaches and players.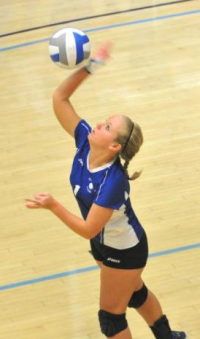 "Our 'bench' then got to become our starters, and for the first time we didn't have a single weak player on the bench, therefore felt confident in putting them into the line-up," said Kennedy. "They held their own and helped us pick up a few more wins."
"This is the first season we didn't have 'a bench;' everyone played, was equally talented and ready to step up. The girls on the team are amazing, dedicated and full of spirit, there is no doubt that next year we will be a fighting force."
Kennedy understands the position that they are in going into the final matches of the season.
"We will approach our final games like we have in every other game," said Kennedy. "One of our captains, senior Hannah Davis, always gives a speech prior to the game, she mentions it does not matter who is on the other side of the net, [that] we can only control what we do on our side."
"Keep the errors on them. That is how we approach every game and that is how we will approach the last three of the games this season."
"Our spirit was defiantly crushed after seven losses. We played our hardest competition back to back. Yet I am still extremely proud of our team. We refused to let those better teams run all over us, they did not get a win easily and we held our own."
With the end near, the final games become a test of pride. The Lady Rams can try to end on a high note and go out with some wins on their record.
"With our full starting line-up and people playing in consistent spots," said Kennedy, "there is no doubt in my mind we would [have] taken games from those teams and hopefully that's what we will do next season. We always play hard and will continue to play hard."
"Just because it's the last three games [that] does not mean we will let up. We look at it as a chance for three more wins, and we will continue to fight for them."