Editor's word: Oct. 3, 2012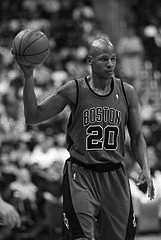 With the professional sports world's focus fixed on the NFL and NCAA football seasons, some may forget that the 2012-2013 NBA season opener between the Boston Celtics and Miami Heat is just weeks away. The obvious rivalry between the two teams, that has grown over the past few playoff seasons had a new chapter added during the offseason when beloved Celtic Ray Allen decided to leave Boston in favor of sunny Miami.
Despite countless trade rumors surrounding the 37-year-old veteran over the past few seasons, many Celtics fans were depressed to hear their fan favorite Allen had decided to join their hated rival. Current Celtics player and Allen's teammate during his four years in Boston, in Kevin Garnett, was among the depressed by the former Seattle Supersonic's decision and told ESPN Boston's Chris Forsberg, "I don't have Ray's number any more…I'm not trying to communicate I'm just being honest with everybody here…it's just what it is."
Allen did respond to these comments on AOL Sporting News, saying "That's a shame I'm a good person to talk to on the phone." Over his career, the newest addition to the Heat has never been one to grab headlines or participate in a public war of words, which is just one of the reasons Celtics fans shouldn't hold his latest decision against him.
Allen was an essential key to Boston's 2008 NBA Championship and was nothing but respectful and productive over his time with the historic franchise. If he was to be booed by the TD Garden fans when the Heat visit Boston at the end of January, that would be a slap in the face to the everything that Celtics fans love him for over his four years with the team.
Leave a Comment