"Superman" goes from hero to villain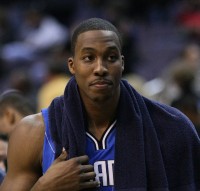 A transformation took place this  week in the NBA. It wasn't a young no-name player morphing into a star before our eyes á la Jeremy Lin, and it wasn't a veteran player realizing that their time as an elite player in the league may be coming to an end, á la Ray Allen.
The situation I'm referring to is Dwight Howard, who went from an all-around good guy, to an arrogant, self-centered individual seemingly overnight.
On Thursday, Orlando Magic Head Coach Stan Van Gundy found out through team sources that a player on the team requested for him to be fired.  The player who made that request? "Superman" himself, Dwight Howard.
It's no secret that Howard has wanted out of Orlando for most of this season, publicly demanding a trade to the New Jersey Nets, and then later retracting that statement.
Superstars always seem to request trades when their teams aren't doing well because they all want to win a championship, and there is obviously nothing wrong with wanting to win because championships define a players' legacy.  But a player that goes to the front office of their team and request that the head coach is fired is not OK.
Dwight Howard is known for being one of the nicest guys in the NBA, though winning championships has apparently been his kryptonite.
The six-time All-Star has  ranked consistently as one of the best in the league in rebounds, blocks, field goal percentage and free throw attempts,  but he has not been able to bring a championship to Orlando since he became a member of their team in 2004.
When Howard chose to walk into the Magic front office and tell them to fire Stan Van Gundy, he went from 0 to Lebron James in terms of attitude and arrogance.
Orlando Magic fans have not been happy either, as they have booed the player recently at home games.
I know that Dwight Howard is one of the elite players in the NBA, but that still does not excuse him for his actions.  A star player has no right to try and dictate who their coach is, as their one goal should be the same year in and year out— to win a championship for their respective team.
If Orlando Magic General Manager Otis Smith and Stan Van Gundy were smart, they would make trading Dwight Howard their top priority this offseason.
If he does get traded, the Magic should get a lot in return.
My not-so-bold prediction?  If they don't rid themselves of the NBA's newest villain, they will be doomed to forever be a mediocre team and they will never win a championship.
View Comments (1)