Bittersweet week for women's basketball team
It was a good news, bad news week for the Suffolk women's basketball team, as they lost in one tournament, but got selected to play in another.  The Lady Rams lost Thursday night to Emmanuel 87-58 in the Great Northeast Athletic Conference semifinals.  
Suffolk couldn't overcome a balanced offensive attack from Emmanuel, as they had four players in double figures scoring.  Suffolk would never be closer than two points, when the score was 12-10 Emmanuel, very early in the first half.  Emmanuel would go on to outscore the Rams 35-17 over the rest of the half, and never looked back after that.
Despite the blowout, Suffolk senior Meghan Black was able to achieve a significant milestone, as she reached the 1,000 point plateau with 26 seconds to go.  She finished with a team high 14 points and eight rebounds, while Mary Garon and Jacqueline Vienneau added 13 and 12 respectively.
It wasn't all bad news for the lady Rams however, as the team found out on Monday that they will be a part of the eight team Eastern College Athletic Conference championship.
This is the sixth consecutive year that the team will be a part of the tournament, and they will be seeded fifth, traveling to Colby-Sawyer College Wednesday for a 7 p.m. tipoff.  The Rams were victorious over Colby-Sawyer once already this season, defeating them 63-61 on December 6.
Wednesday's matchup with be played at Coby-Sawyer College, and the winner will advance to Saturday's semifinals and face the winner of the top-seeded Keene State College/Regis College game.
Suffolk  posted an 18-9 overall mark for the 2011-12 season and finished fourth in the GNAC with a 10-3 conference mark.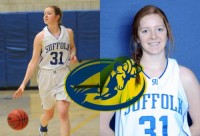 View Comments (2)