Suffolk Awarded President's Community Service distinction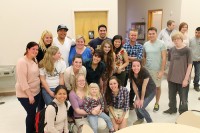 Suffolk University has been named to the President's Higher Education Community Service Honor Roll with Distinction for the numerous service opportunities that the school participates in locally, nationally, and internationally.
Suffolk has been named to the honor roll for the past three years, but this year is the first time the school has been named with distinction.
"This honor serves as a validation of our commitment to community and service," said President McCarthy in a press release on the Suffolk website. "We applaud the efforts of our students, who contribute more than 30,000 hours to community service projects each year, and our staff members, who have created volunteer opportunities by building partnerships with more than 50 community-based organizations," he said.
Tim Albers, the assistant director of Suffolk's Organization for Uplifting Lives through Service (S.O.U.L.S.), believe the award is a "reflection of the university's commitment to civic engagement," noting that the award "recognizes a collective effort" from all areas of the university, not just the S.O.U.L.S. office's work.
"There are students doing incredible work all around campus," Albers said, "whether it's a NESAD student creating a t-shirt design for a non-profit, a law school grad working with the clinical programs, or students going on Alternative Spring Break (ASB) trips."
Sophomore Emily Brady believes that Suffolk's volunteer opportunities are "definitely worth recognition," and "working with S.O.U.L.S. is something all Suffolk students should explore. Their programs are engaging, rewarding, and in my experience, life changing."
"I have participated in Suffolk's Service Day a few times and done ASB twice, once as a participant and once as a leader," Brady said. "I don't get the kind of satisfaction that I get from community service anywhere else, and I like that."
Many of Suffolk's community service programs are run through Suffolk's S.O.U.L.S. located on the second floor of Donahue in suite 209. The S.O.U.L.S office offers weekly, local events, as well as national and international service opportunities through Alternative Spring Break and Alternative Winter Break (AWB).
Students can find out about local service events including "Supper Clubs" to help feed the homeless, the Prison Book Program in Quincy— which seeks to promote literacy and education to prisoners, and various Saturday service days around the city, on S.O.U.L.S.'s SUConnect page.
Albers noted that S.O.U.L.S. is not only looking for student participants for these events, but also students who would serve as leader of weekly events.
"It's for students who want to be a little more committed to service opportunities," he explained. If any student is interested in being a leader, they should contact the S.O.U.L.S. office for more information.
S.O.U.L.S. also held Suffolk's 15th Annual Service Day on Friday, which featured day and night shifts for students to help out many local, non-profit organizations such as Cradles to Crayons, Red Cross Food Bank, Casa Nueva Vida, and Boston Health Care for the Homeless, to name a few.
"We want to be responsive to the community we're in," Albers said of working with local partners. "We want to help them and our students learn so much from them—it's a reciprocal partnership. Students can even gain more than they give."
Another local opportunity run out of the office is the Jumpstart program, a division of AmeriCorps. Jumpstart allows students to become corps members by working with pre-school children in low income areas of Boston while also receiving work study hours and pay.
Over break, S.O.U.L.S sponsored 10 Alternative Spring Break trips all over the country, from Texas to Colorado to Maine, that included about 130 Suffolk students who served with Habitat for Humanity, environmental, LGBTQ, or youth service programs. These trips allow students to experience service in a completely new culture within the country and bond with fellow Suffolk students whom they may have never even met otherwise.
Alternative Winter Break offers students the chance to serve in El Salvador, after taking a class in El Salvadorian history the semester before the trip to better understand the plight of the Central American country. Albers believes AWB is a "great example of Suffolk's commitment" to service as it "occurs because of Suffolk's connection with Congressman Moakley… it keeps [our] legacy of service alive." Albers believes that Suffolk's commitment to service.
View Comments (5)