Recent Suffolk graduate breaks into broadcast
Fresh off his 2018 graduation from Suffolk University, former broadcast journalism major Jacob Tobey has already landed a full-time position as a sports anchor/reporter for KJRH in Tulsa, Oklahoma. With his new job, Tobey has become the youngest person to ever hold a television sports position in Tulsa.
"Choosing to go to Oklahoma was a no brainer because of the job opportunity," said Tobey in an interview with The Suffolk Journal. "I miss my family and friends but this business is all about sacrifice. I would not change anything about the start of my career."
For someone who has worked as hard as Tobey, accepting a full-time position right out of college comes with no surprise. While at Suffolk, Tobey was the president of Suffolk Free Radio (WSFR), a student reporter for NECN and spent the majority of his time molding his skills in Suffolk's Studio 73 by anchoring shows such as the Suffolk Sports Report.
Along with those studio activities, Tobey practiced his craft in a class called "SU News," where he learned how to make better packages and anchor newscasts in studio 73.
"
I think Suffolk gives you the tools to be prepared for the workforce. Having professors that are actually in the news business is the best part about Suffolk. It gave me people I could go to in need of advice or work critiques."
— Jacob Tobey
"Studio 73 with Jerry Glendye [TV Studio Manager] was the best time of my life," said Tobey. "I would not be here today without it, and I am so grateful to have done live shows at the college level. I lived and breathed that studio."
Now Tobey lives and breathes in the KJRH studio, where his typical day varies depending on if he is anchoring or reporting. When anchoring, Tobey is tasked with writing scripts, editing interviews and highlights and more. When Tobey is out in the field reporting, he determines what sports story will be featured in the 10 p.m. newscast and then shoots and edits the package that will be aired that night.
Despite Tobey's busy days in the studio, he has been ready for this opportunity for a long time. He said that Suffolk has prepared him for this and future jobs to come.
"I think Suffolk gives you the tools to be prepared for the workforce," said Tobey. "Having professors that are actually in the news business is the best part about Suffolk. It gave me people I could go to in need of advice or work critiques."
Considering Tobey has been working towards getting an on-air position for a while, there are many aspects of the job that he loves. Amongst these, his favorite activity that comes with the job is that he gets to watch great athletes. So far, Tobey has gotten to cover the Big 12 Championship game between Oklahoma and Texas and two of the best players in the National Basketball Association, Paul George and Russell Westbrook.
For Tobey, his progression as a journalist does not stop here. Although he has been waiting to cover sports on television for a long time, he will not stop until he has reached the top of his profession. Getting better day by day is something that Tobey has always been committed to doing.
"It feels good to be where I am at but I am not even close to satisfied," said Tobey. "I know I can be so much better than I am now so it's time to really start grinding."
Reaching a certain level of success requires a lot of hard work and Tobey is one who has fully embraced that notion. While determination drives work ethic, passion for the work is what makes it all come to fruition.
"It is a tough business so you really have to have a passion for broadcasting to enjoy the work," said Tobey. "You have to work your butt off and make sacrifices."
With a long road ahead of him, Tobey values the experience he is getting at KJRH and plans on applying it as he moves throughout his career. KJRH's Sports Director Cayden McFarland has been a great mentor for Tobey thus far.
"Cayden has been so kind to me and is teaching me valuable things that I will keep with me forever," said Tobey.
As Tobey looks forward towards his future, he reflected on his past saying he "would not change a single thing about his Suffolk experience." With each lesson that he learned, a new insight to his career has been made. The 22-year-old anchor/reporter said he will continue to build his resume while enjoying every second of it.
View Comments (2)
About the Contributor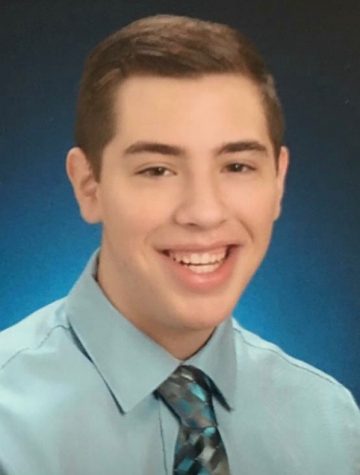 Sean Cushing, Assistant Sports Editor
Sean Cushing is a Junior from Methuen, Massachusetts. He is a Broadcast Journalism major and  as the assistant sports editor, Sean hopes to find a career in sports broadcasting or writing. Sean loves all Boston sports, but his favorite team of all is the Red Sox. After college, Sean hopes to find a job in Boston, so he can cover his favorite teams.