Men's basketball dribbles towards redemption
Junior Thomas Duffy sat in the Suffolk Ridgeway Building, where he has spent the last three years of his life improving every aspect and angle of his game. Now just a handful of days away from starting his junior season, Duffy's mind lingers on the teams crushing postseason defeat just nine months prior.
White and gold uniforms stormed the court, as Johnson and Wales University celebrated above the wildcat logo printed dead center on their home court. Duffy exhaustedly trudged off the court for the last time of  his sophomore year, the sweat stained navy blue Rams jersey clinging to his aching muscles.
The guard left all he had on that court in Providence, RI last year in the Greater Northeast Athletics Conference (GNAC) championship quarterfinals game. He lead Suffolk with 33 points, hitting a three-pointer with two minutes left in the game to pull within a single basket of the eventual GNAC champions.
"It leaves a bitter taste, it's kind of tough to talk about," Duffy said in an interview with The Suffolk Journal. "No one likes losing games like that, where you have an opportunity to win. We had them, we were right there, we know that we can beat those guys."
The Rams will kick off their 72nd season on Nov. 10 at home against Salve Regina University. The team welcomes seven freshmen and the return of 10 upperclassmen including captain Steven DiPrizio who missed all of last year after a heel injury.
DiPrizio lead The Rams in rebounding with 8.3 per game as a sophomore, but could do nothing but sit and watch during the quarterfinals game. Suffolk was thoroughly out classed on the glass, giving up 13 second chance points in a six point loss.
DiPrizio refused to be discouraged, and instead is focused on his role as a captain and mentor.
"I'm super thankful for everyone on the team," said DiPrizio in an interview with The Journal. "The coaches have been super supportive and I have to continue to do as good of a job as I can to lead and be vocal, to uphold our core values that we stand for."
With one of the deeper teams in recent memory, the Rams are ready to fully embrace the offense first implemented by head coach Jeff Juron four years ago. With a multitude of fresh legs ready to check in whenever needed, the team is free to run up and down the floor and push the ball for the entirety of the game.
Captain Michael Hagopian, who is entering his last season with the Rams, spoke highly of his four years under Juron.
"[Juron] has taken this program and each year it's getting better and better," said Hagopian in an interview with The Journal. "This year it's the best it's ever been and that all starts with him."
Hagopian has always considered basketball more than a game or even a way of life. He said he loves the sport for the hard work it demands and the thrill of seeing this work come to fruition.
Hard work is exactly what Hagopian has displayed at Suffolk. He went from being recruited without the promise of a starting spot, to starting every game in his four-year career. Along with becoming a captain, Hagopian has averaged an impressive 14.5 points per game since his sophomore year.
Coming into the season, Hagopian is 70 points away from reaching Suffolk's illustrious and exclusive 1000-point club, a feat only accomplished by 26 others since the first member was inducted in 1953.
"It'll definitely be cool," said Hagopian. "I never got to achieve that in high school. To do it in college is just not something many people can say."
This season Duffy also aims to join the 1,000 point club. He is currently only 358 points shy and likely to reach this feat as last season alone he scored 455 points.
For all three of these young men, individual goals are not what defines their success, a championship is.
For the entire team, the youthful stamina and exuberance has meshed with the veteran experience and leadership into one supremely talented perfect storm. This year the Rams locker room is only missing the sparkling silver trophy declaring Suffolk's place on top of the GNAC.
Leave a Comment
About the Contributor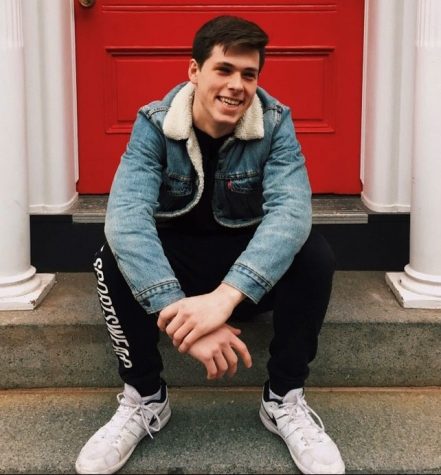 Andrew Laird, Assistant Opinion Editor | he/him
Andrew is a former New Hampshirite majoring in Journalism and minoring in English. When he's not reading or writing you can find him listening to jazz, going to museums and speaking passionately about his travels. One day Andrew hopes to obtain his doctorate in sociolinguistics.
Follow Andrew on Twitter
@The_AndrewLaird