The softball team currently sits alone at the top of the GNAC standings.
Although the Lady Rams lost to conference opponent, the Simmons Sharks, last Sunday, it was the team's first loss this month.
In the second game of the doubleheader, the Lady Rams led heading into the sixth inning. The Sharks scored two unearned runs in the top of the sixth, one on a wild pitch and the second on a walk with bases loaded.
The Lady Rams lost by a final score of 2-1. Infielder Madison Eucalito did not let the loss get too her or the team's head.
"We weren't too happy about the loss," said Eucalito, a freshman. "But we bounced back today and became the team we were before. It was a team effort. The team showed that we learned from the loss."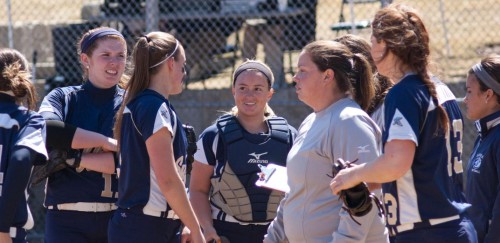 The Lady Rams bounced back in their two make-up games against Johnson & Wales Tuesday afternoon winning both games, 10-2 in game one and 4-3 in game two.
With the wins, the team improved their April record to 13-1, and their conference record to 14-2.
Coach Jaclyn Davis is in her third season with the Lady Rams, and her team continues to prove they listen and believe in her abilities at the helm.
"It's been great," said Eucalito. "She got us bonding since day one. She had us all do a scavenger hunt across the school campus to bond at the beginning of the year. It's been a real pleasure playing for her and has been great for the team."
Eucalito is only in her first year, but she identifies the team chemistry from the coaches and the players.
"Both our assistant coaches [Lauren] McCart and [Jennifer] Jacob are amazing too," said Eucalito. "They work hard, and all our hard work has paid off. Between all of them, I couldn't ask for better coaches."
The Lady Rams do not have an easy road to the playoffs. Starting Thursday, they will play six games in three days. They will play their final home game this Thursday in a doubleheader against Norwich, followed by a doubleheader at Emmanuel Friday. On Saturday, they will face their final conference opponent, Saint Joseph's College of Maine, in another doubleheader.
In softball and baseball, home-field is important because the home team gets to bat last. With only four conference games left, the Lady Rams look to maintain the No. 1 seed heading into the postseason to have home-field advantage through the playoffs.