Men's hockey could not handle Curry
Hang on for a minute...we're trying to find some more stories you might like.
By Ian Kea
The men's hockey team put up a fight Saturday evening, but it was not enough to pull out a win.
The Rams struck first in their ECAC Northeast game against Curry College on a goal from leading team scorer, sophomore forward Stanton Turner assisted by junior defenseman Shaughn Shields.
Nearly three minutes after, Turner struck gold again on a power play. The Rams struggled to produce any offense from then on out going one-for-five on power plays and letting up five goals with no offensive reaction to counter leaving the squad with a 5-2 loss.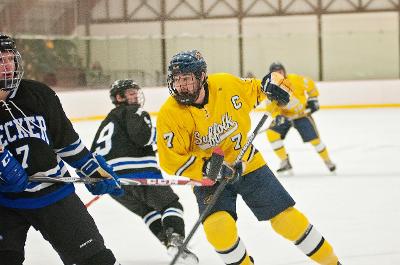 On Monday evening, the team let up early giving up two goals to the Curry Colonels in the first period. The Rams showed flashes of resistance with scores from Turner and from freshman forward Anthony Galloway but ultimately couldn't close at home suffering a loss with a final score of 4-2.
After back-to-back losses to Colonels on Saturday and Monday night, the Rams find themselves in a between a rock and a hard place in the ECAC Northeast. With five straight losses to conference foes Curry, Salve Regina, Johnson & Wales and conference leader Nichols, the Rams are 4-5-1 in conference play and 10-10-1 for the season overall. Despite a tough season, they have a lot to work with in the future and showed it so far this season.
In the ECAC Northeast, the Rams have four players in the top-25 for scoring in conference play. Turner is the seventh leading scorer in the conference with a league high nine goals, plus two assists. Senior forward Tim Sprague, junior forward Mike Cherpak along with sophomore forwards Simon Leahy and Justin Selep are tied at 25th for scoring in conference play.
Not only do the Rams have offense for the future, but they also have a valuable asset in goal in the likes of Brandon Smolarek a junior from Chesterfield, Missouri who has the sixth highest save percentage in conference play at .921 in 10 games played. The Rams, along with having a conference leading goaltender, are also fourth in overall team defense allowing on average 2.9 goals per game.
The team has had problems combatting one of their biggest weaknesses, capitalizing on power plays. The Rams are 7-for-45 on power play opportunities ranked sixth out of eight teams.
The remaining games for the Rams are set against a winless Becker and middle of the pack Wentworth. The Rams can show, although this year may not have been theirs, they are determined and ready for next season knowing more of what can be expected and more of what needs to be done to get to the top of the ECAC Northeast.