Suffolk baseball plays strong in first conference games
Over the past 10 years, it has been quite apparent that Suffolk University baseball is a force in the GNAC.
Last season, the Rams captured a shot to play in the GNAC Championship, making it the seventh straight year they have appeared in the championship game.
The Ram's 29-14 record in 2013 earned them No. 8 in New England while the program for the sixteenth year in a row has won at least 20 games.
Every year the guys head down to Florida for their own spring training to enjoy the warm weather until having to play in the brisk beginning of spring in New England.
The first five games in Florida were losses for the Rams, but they quickly responded with three straight wins. These games are primarily against tough opponents they usually do not play during the regular season. They finished (3-6) on their way to play Wheaton on March 21.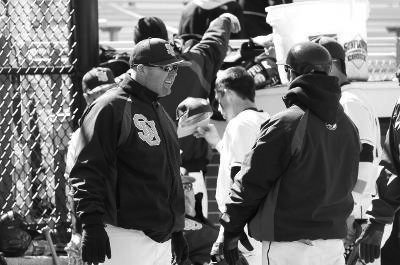 The Rams tied Wheaton in a 12-inning affair and followed up by splitting a double-header against Rhode Island College. They were 4-7-1 coming into a stretch of conference games, their first of the season.
First, the men would collect their fifth win of the year by defeating Salem State by a score of 7-5.
In the top of the fourth J.C. Collette hit a grand slam to tie the game, and Devan Jones also hit a solo home run of his own.
Dan Shields picked up the win pitching 5.2 innings in relief to hold off a strong start by Salem State.
Next would be the first conference games of the year when Rams took on Curry in a double-header on March 29.
In the first game, Jonathan Richard took the mound for the Rams looking to pick up where he left off last year. The southpaw tossed five innings giving up one earned run and striking out three on his way to the victory.
The whole team pitched in offensively including a six-run fourth inning, which led to a 9-3 victory.
Game two would be more of the same for the Rams. This time Steve Chamberlain took the ball for the Rams and was sparkling over six innings, surrendering only four hits in six innings of shutout ball.
He also had eight strikeouts, and the Rams would score in the second, third, fourth, and sixth innings compiling five runs while Curry could not figure out Chamberlain.
Rob Marks had two hits and two RBI for Suffolk.
The Rams have now won four straight and are getting hot at the right time. The upcoming schedule features a healthy diet of conference games that are the most important for the Rams.
They will take on Lasell Thursday in a conference game at 3 p.m.