Playoffs on the horizon for volleyball
It has been an average year for Suffolk University's Volleyball team, but all that can be left behind in the playoffs.
After a lackluster year for the Lady Rams, they still have plenty to prove and will have a chance to. They have clinched the playoffs, and more importantly finished their regular season with a big home win against UMass Dartmouth 3-1.
The Lady Rams (16-13) finished the season with a 5-6 conference record. More impressively, they managed to put up a 6-1 record at home, with their only loss coming from GNAC rival Emmanuel.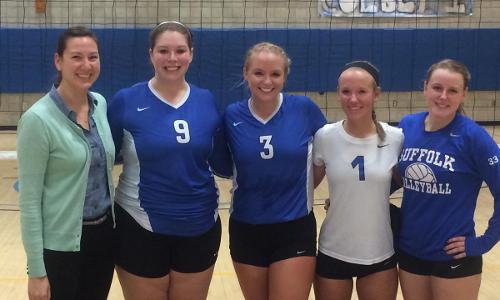 Tori Brillaud leads the team in kills, and has proven to be one of the most valuable players on the team.  She averages 3.7 kills per set, more than anyone on the team. Brillaud has managed 4.1 points per set and has totaled 365.5 points this season. The player who comes close with 332.5 points is freshman Savannah Carpenter.
Carpenter, who has 253 kills, has proven that she is the future of Suffolk volleyball, which will be important for her in the playoffs to gain experience. Luckily the Lady Rams will have some experienced players like seniors Hailey Atkinson and Colbey Kennedy, who reached her 1,000th dig in her collegiate career this season.
There is still a week left in the regular season for the GNAC, but the Lady Rams will get to rest until they find out who their opponent is in the playoffs.
Leave a Comment