Floyd Mayweather Jr. is terrible for American boxing
Boxing is still alive all around the world, but it is not thriving in America in the same way it has in the past.
Floyd "Money" Mayweather, the top pound-for-pound boxer in the world, is the worst thing to happen to boxing.
Mexico has the resilient Juan Manuel Marquez, Ukraine has the unstoppable Wladimir Klitschko, and the U.S. has the greedy Mayweather.
Mayweather (45-0) has been plenty vocal about his nickname "Money," and it turns out that is all he is about. Understanding, Mayweather is the best boxer in the world right now is always going to be impressive no matter who he fights or fought.
Mayweather is a great promoter, but it has got in the way of his hype as a fighter. The truth is that Mayweather isn't a fighter; he's a boxer. He can brag about how much money he made off a fight, but after, all fans do is complain how boring the bout was. People are paying money to see him box a little bit and dance around the ring. The sad part is that Mayweather is actually deadly when he throws punches, but he chooses to out box an opponent over fighting him. The argument will go on whether that is his fault or the opponent's fault, but no one can deny that Mayweather's style is far from thrilling.
The top argument against Mayweather is that he "dodges top contenders." This is not a farfetched comment, definitely something that can be argued, but still a legitimate concern that will hurt his legacy. He will dodge a small name contender for a bigger name from a populous country that will produce more revenue for him. Then the dance begins.
An argument that no one mentions as far as why Mayweather isn't as popular of an American boxer as other previous champion fighters is that he is small. Mayweather's head would explode if he ever heard someone say that, but it's true, he is below the average size of a man. Standing at 5'8, 146 pounds, he would be looking up at the majority of America.
Football, another physical sport, would be less popular if the star linebacker was really the size of the water boy. Apparently size does matter in America. When there is an American heavyweight fighter, the American people seemed to be more intrigued. No average man would mess with Mike Tyson or Muhammad Ali if they saw one of them on the street. If Mayweather was mouthing off to anyone on the street and didn't have his brother and promoting team around, plenty of people wouldn't hesitate to talk back.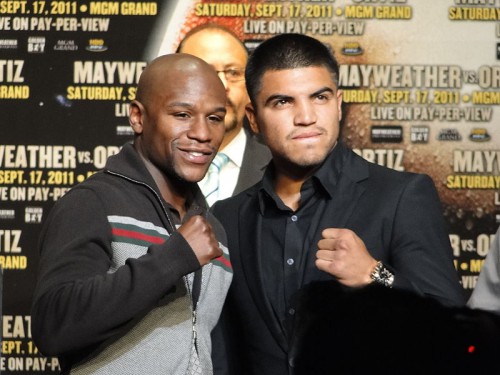 To avoid complete Mayweather bashing, he is the best fighter right now and earned every belt that he has won. The problem at hand is that he does not defend the titles like a champion, but rather a man who is afraid to lose instead of beating a top contender to prove without a doubt he is the king of boxing.
Plenty of fans have used the excuse that the Ultimate Fighting Championship has surpassed boxing, when really that is not the case. Boxing still has higher popularity than both MMA and wrestling. If the World Boxing Association can take anything out of the past decade, it is that fans are always left disappointed with the performance of the top prize fighter in America, the place where the only hype is coming out of Mayweather's mouth.
Whether Mayweather is fighting boxers who are heading out the door, knocking a fighter out who is defenseless, or dancing around the ring for 12 rounds, he does not seem to back up his talk. For a man who talks so much trash and hypes himself as the best, he has dodged every fight that fans want to see and who reporters rank as the top contenders. Even if he fought Manny Pacquiao next year, he is well past his prime now. Yet again, Mayweather would dance around another fighter past his time.
Apparently Mayweather is okay with a majority of fans wanting to pay to see him get knocked out, as long as he is making the green he loves so dearly.
Leave a Comment