Women's tennis boosting confidence with two wins
The Suffolk University women's tennis team will be approaching their final matches of the season this week.
The Lady Rams have not had the best season, but they have fought until the end and are still winning matches. Their biggest victory of the year coming from a dominant performance against Mount Ida, winning all their matches to cap of a 9-0 team win.
The winning did not stop there, as the Lady Rams also defeated conference opponent Albertus Magnus on Columbus Day. With that win, the team improved to 2-2 in the conference, and is currently in fourth place with two matches left.
A winless start to the Lady Rams season has just turned into a legitimate shot of being playoff contenders.
Sophomore Rebecca Eshoo, who has the most wins this season in the singles competition, understands that even with a mediocre record, anything can happen in the playoffs.
"Although Mount Ida isn't our best competition, this win was important especially approaching the the GNAC tournament," said Eshoo. "We are building our confidence for the playoffs."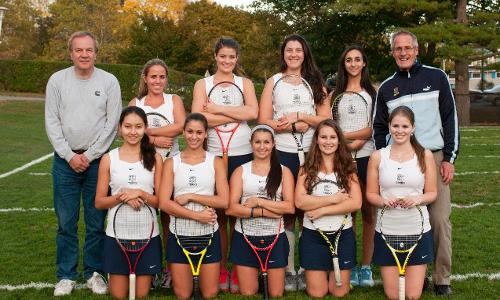 Eshoo played well her freshman year, but now looks even more promising for her "upper-class" seasons. Tennis, in college and in high school, is all about practicing to get better, but also practice against your teammates to make them better too.
"Over the season I have improved a lot, but the hardest thing is keeping a positive mind set," said Eshoo. "Tennis is such a mental sport, it's difficult to not let your opponent get in your head."
The GNAC has shifted since last year, excluding teams like rival college Emerson. The rivalry is still somewhat there, but now there is no pressure of facing Emerson in the playoffs.
Emerson (2-8) has also struggled this year, but this match is just as important to them as it is to Suffolk, being that it is the final game of their season.
"Emerson will be our last home game of the regular season," said Eshoo. "We are determined to get the win, especially for our four seniors, who will be missed very much. Although Emerson is no longer part of the GNAC, there is still a sense of rivalry. We've come close to beating them in the past so we will be playing hard this Friday."
The final two games of the season will be back-to-back, with the Lady Rams facing Emerson Friday at 6, and less than 24 hours later, St. Joseph at 12. The Lady Rams need to keep in mind that as good as it would be to beat Emerson, St. Joseph is a conference match-up and a must win for them going into the playoffs.
Leave a Comment