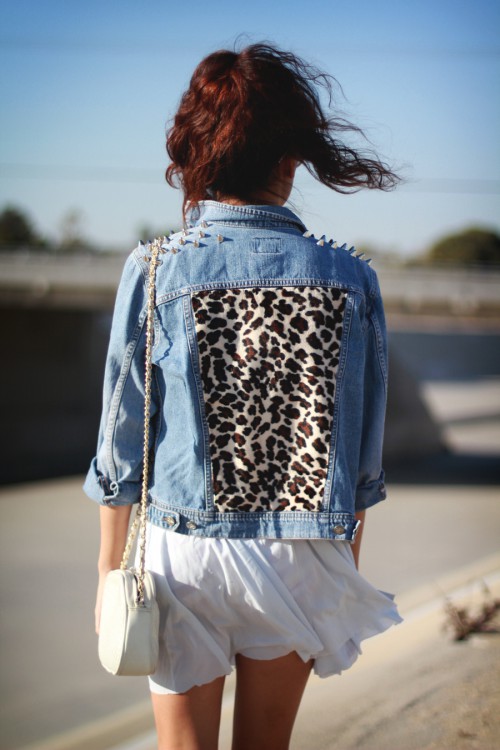 Magazines and "Fashion Police" show the latest trends in attempt to convince consumers that "you can to!" They all seem good in theory but it is honestly quite difficult to know what you are getting into before you buy that shirt you thought was cute or that make-up product that yelled "Look at me!" on every edge of your magazine. So before you make any life altering decisions regarding your summer wardrobe, read the following tips on the latest trends by a fellow college student who loves fashion just as much as you and can't afford any style mistakes.
Printed leggings. These gems have been a trend for a while and I say it is time to let them go. Stars and tribal prints are really fun looking they really are, but when they are skin tight they become a monster all their own. With a pair of plain black leggings you look casual and provides a slimmed down look, where as with printed leggings it does just the opposite.
Candy colored nails by Essie, Maybelline, and a few other make-up companies have created special limited edition nail polishes specifically for the summer and they are hot. Corals, sea blues and exotic purples to really make your summer look even cooler. These are easy to use and go with essentially everything. Make a statement nail or try them on the tips with some nude polish for a different look.
Maxi and midi skirts,.With these timeless pieces coming back into fashion last summer, this summer is where they really are going to shine. Sheer pleated styles along with hi-low are fun, flirty and can be dressed up or down. There are also more fun prints like paisley could give you more of a bohemian look.
Dry-oil instead of a heavy body lotion  gives you some sweet hydration. They make your skin so soft and makes  skin glisten. It would be a way to show off the great summer tan. Garnier Fructis dry oil for both body and hair is great for taming frizz and fly-aways.
Beach hair spray. Speaking of hair, this is a trend that has exploded with companies this season. This product is meant to give your hair that fresh from the beach waves and texture. I would say tread lightly when buying this product, it isn't meant for everyone. It works best for people with layered hair that already has some fullness in it. For some, it can make the ends crunchy and fine hair stringy so if there is anyway to test it before buying it, please do.
Summer sweatshirts. Everyone needs a sweatshirt they can wear when they at the barbeque and when the sun goes down. Something light with a cute print or in pastel are great for this summer and transfer very nicely into fall.
This goes the same for denim jackets. They're great to keep around spring, summer and fall. One note is to get a color that will stand the test of time a dark or medium denim is great. Know if you get white or another color it may not last you as long.
Printed chiffon tops. Chiffon is awesome. Add prints to it, palm trees or polka dots (the popular looks for the season), and you have a classic piece in the making. Get long sleeves or sleeveless, they are light and airy and can be great for the office and straight to the beach.
Many companies have been trying to add SPF to everything and I love it. Pale skin people rejoice. From foundation to lotion to lip care, these products will make your everyday routine a little safer and keeps you from aging prematurely.
Peplum brings us back to the time of martinis and cat-eye make-up and I don't mean last night. This vintage style is redone into modern shapes and fabrics. It is a very feminine look great for girls with slim hips giving them more of an hourglass shape. Girls with more shape, if you want to give this trend a try, wear peplum shapes that don't jut out as far but are tight in the waist giving that curvy look without giving unnecessary volume.
Lace cut-offs. These have become really popular to see this season. And the best part is that you make them at home. There are tutorials all over Pinterest, which are great. If you are looking for a low commitment summer project, that might be for you. If you don't love shopping around, they can be found at Free People and Bebe, a bit pricey but some could argue a sound investment for something feminine and easy.
Some styles are not meant for everyone, I hate saying it but it's true so the best advice to give is try on clothes and test products before a purchase. It seems simple but when you know what you want it easy to forget. If you have no way of testing out something, make sure to figure out a stores return policy.
Now when you are out and about this summer, you will have the fashion know-how and won't be caught in anything else but illuminating summer fun.