Lorde's 'Solar Power' tour shines bright at Boston's Wang Theatre
April 18, 2022
Lorde's "Solar Power" tour at the Wang Theatre on April 13 summoned a week of warm temperatures to the City of Boston in a vibrant and enthusiastic concert.
The New Zealand pop singer recently embarked on her third tour for her third studio album "Solar Power," which was released in August. Boston was her fifth stop on the tour and Lorde graciously expressed her gratitude to the crowd and created lively energy throughout the sold-out show.
"We have a sold-out theater tonight and I want you to f*** it up," Lorde exclaimed before playing "Team."
And that's exactly what the hoards of devoted fans did – jumping out of their seats and raising their hands in the air for our savior, Lorde.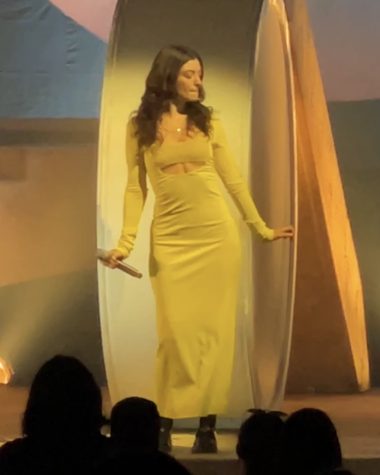 The Grammy award-winning artist sang a variety of 22 songs, with most of the set-list from "Solar Power," but also included hit songs from her first album "Pure Heroine" and her second – and most beloved album – "Melodrama." 
The performance was split into three acts, each with a quick outfit change. Lorde's concert wardrobe consisted of a silky green pantsuit, a chic yellow dress and a bright pink two-piece set – effortlessly exuding all things Vitamin D. 
There was a perfect balance of music and the progression of songs flowed with ease and fluidity. One moment you were happy-crying and reminiscing back to your 15-year-old self when listening to "Ribs," while the next moment you're pouring your heart out to "Hard Feelings," then jumping up and down to "Supercut."
However, the 100-minute concert did begin with some technical difficulties. After Lorde opened with the interlude "Leader of the New Regime" in a mystical performance, the mic cut out and she was unable to sing her next song. This caused confusion from fans, but Lorde, as the true professional she is, did not let this bring her down. Although you couldn't hear her, she laughed about it and still embraced the moment.
"Thank you so much for being gracious right now, there's always some God in the machine that's trying to f*** with us, but there's no better place for that to happen than Boston because I've been looking forward to seeing you guys for so long," she said. 
The music quickly began again and although it was a rocky start, she was in high spirits for the rest of the show. 
The last time Lorde toured was for her album "Melodrama" in 2017-2018 and she was grateful to be back.
The beautiful thing about Lorde is how self-aware she is of her music and the impact it has on her fans. When introducing the next song, "Stoned at the Nail Salon," she asked the audience if they were ready to cry. Yes, Ella, we all were prepared to sob at this somber song about growing older. This is a familiar feeling we all could relate to and the audience felt connected at this moment as she sat down to sing. 
The concert could not be complete without a blast of bright yellow confetti. When Lorde sang the rhythmic, upbeat line "blink three times when you feel it kicking in" from "Solar Power," confetti shot out from the stage, floating down around the theater for a brief moment.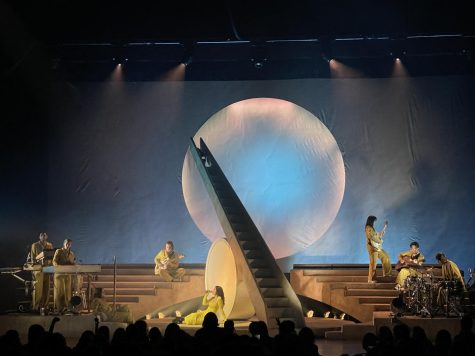 Lorde's singing and animated dancing weren't the only important elements of the show. The stage design perfectly reflects the album's theme of a whimsical, serene summer spent soaking up the sun.
The main focus of the stage is a large sundial that rotates through the concert. It also served as a staircase for Lorde and her band to walk up in a few songs such as "Fallen Fruit" and "Mood Ring." Underneath the earth-toned dial is a circular structure that Lorde sits on and stands against for some of her more melancholic songs. All of these components, along with her band in muted-yellow suits, captures the true essence of the album.
Lorde may have been able to sell out a larger venue like TD Garden, but her intimate performance at the Wang Theatre was perfect for the flirty and toned-down vibe of "Solar Power."
The folksy "Solar Power" might be one of Lorde's most under-appreciated albums. It received a slew of mixed reviews, including a rating of 6.8 on Pitchfork compared to "Melodrama's" rating of 8.8. But hopefully, with this new tour, rising temperatures and beach season looming near, listeners can appreciate the enigma and breath of summer air that is "Solar Power."
Follow Sarah on Twitter @thesarahdipity.