Getting back together with Taylor Swift's 'Red'
November 16, 2021
Taylor Swift has done it again. The pop star finally released her long-anticipated re-recording of "Red" on Friday and casual listeners, critics and die-hard fans alike have not been disappointed. 
The singer originally released "Red" as a pop and country album in 2012. In the wake of her battle over her masters with Big Machine Records and Scooter Braun, the second time around is even better than the first. 
The album features a re-recorded version of 20 tracks from the original, a track originally released as a single and nine tracks "From the Vault," including the heavily-demanded 10-minute version of "All Too Well." 
In her June 18 announcement for the album, Swift said "this will be the first time you hear all 30 songs that were meant to go on 'Red.'"
Swift's vocals are just as beautiful and strong as ever, more raspy than we have heard on "Fearless (Taylor's Version)" and her two albums from 2020. The raspiness compliments the country tone of her songwriting and emphasizes the slight indie tone only heard minimally in the original. 
The title track shows the maturity that her vocals have reached over the last nine years, and makes fans weirdly thankful for Braun's greediness. Without it, fans never would have been able to experience these albums for a second time, and Swift truly knows how to treat her fans to an entire era of aesthetics, music videos and content.
Lead singles from 2012, such as "I Knew You Were Trouble," "22" and "We Are Never Ever Getting Back Together" are still just as fun and dance-worthy as the original, with "22" being substantially more amazing than the original version.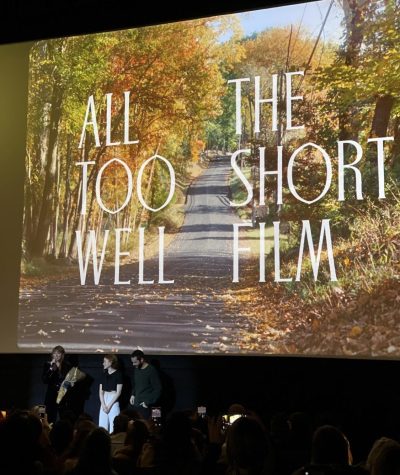 As for "We Are Never Ever Getting Back Together," the carefree nature of the song and its bridge is still one of the best and most petty things Swift has ever done. However, Swift could have done without the super high-pitched roller coaster "we-eeee!" every 15 seconds.
Two different versions of "All Too Well" appear on "Red (Taylor's Version)," a re-recording of the original five-minute version and the 10-minute version "From the Vault." 
Many knew of the original song thanks to a slip up in an interview back in 2012, but Swift announced she recorded the 10-minute version while on "Rolling Stone's 500 Greatest Albums" podcast back in 2020. Since then, fans have been antagonizing Swift to drop the track, and she delivered. 
This version of the song is arguably the most emotionally raw and intense on the album, and Swift accompanied the song with a 15-minute short film which she wrote and directed herself. The short film starred Sadie Sink and Dylan O'Brien, and Swift held an invite-only premiere for her most dedicated fans.
The short film itself is truly a work of art. Shot on 35mm film, Swift captures the timeline of a tragedy. Sink and O'Brien are some of the most unexpected, yet best, choices to portray the doomed lovers. 
Many speculate that the song and film is a real-life telling of Swift's breakup with actor Jake Gyllenhaal, but Swift has eluded from answering the ever-burning question. 
Though "Red" is a break-up album, songs such as "Stay Stay Stay" and "Begin Again" provide a more lighthearted look into the better aspects and memories of a relationship. The songs are even more meaningful now that Swift is happily with her partner of over three years, actor Joe Alwyn. 
Swift had a handful of features on the original album, and, like with "Fearless (Taylor's Version), she brought back her collaborators – and added a few new ones.
"The Last Time," which features Gary Lightbody, lead singer of alt-rock band Snow Patrol, highlights the deepness of Swift's vocals, but Lightbody's voice seemed to have changed more than hers. His voice is higher, and it may be over-adjusted with autotune.
On the flip side, "Everything has Changed," which features Ed Sheeran, is better than the original by a mile. Sheeran and Swift's chemistry is obvious and the song is just as beautiful nine years later. 
In her tracks "From the Vault," Swift teams up with indie artist Phoebe Bridgers and country star Chris Stapleton. These vault tracks are some of the best on the entire album: Swift and Bridger's "Nothing New" is heart-wrenching, and the female duo absolutely stun with their harmonies. 
The writing style and tone of this song is similar to that of "this is me trying" from her July 2020 album "folklore," which won Album of the Year at the 2020 Grammy Awards. 
Fans were thrilled to get "Better Man" and "Babe" from the vault, as Swift wrote these and gave them away to country bands Little Big Town and Sugarland, respectively. 
All's well that ends well, as Taylor says. "Red (Taylor's Version)" has received a five-star rating from "Rolling Stone Magazine."
Swift manages to pull all the emotion from her original release of the album, and multiply it here between the vault tracks and the old ones. She evokes every feeling possible: heartbreak, loneliness, happiness, falling in love, being self-conscious, wanting to feel alive and drowning yourself in sorrow all at once. 
This album didn't win any Grammy Awards back in 2012, but without a doubt, Taylor's Version deserves every one it's eligible for and then some.
Follow Emily on Twitter @emilyhbeatty.