Sea wall murals are bringing color and environmental awareness to East Boston
September 22, 2020
The Boston Harbor Shipyard and Marina came to life as the summer ended with a collection of four vibrant, story-telling murals decorating the exterior of several brick buildings in the area. Linda Cabot, in partnership with HarborArts and PangeaSeed Foundation, hosted the first "Sea Walls: Artists for Oceans" project in the Northeast from Sept. 1 through Sept. 20. 
These ocean-themed, large-scale paintings were created to raise awareness around environmental issues like coastal flooding, and to add colorful livelihood to the East Boston community during the dispiriting time of COVID-19. 
"Now more than ever, there is no better way to bring light to the community than to add fresh, bright colors to the neighborhood during an extraordinarily difficult time," Sea Walls said in a statement on its website. 
The murals were designed and painted by five local artist-activists: Silvia Lopez Chavez, IMAGINE, Julz Roth, Cedric "Vise 1" Douglas and Josie Morway, with Artists for Humanity.
Chavez composed a brilliant, energetic piece titled "Rise." After researching about East Boston's waters and the Boston Harbor Shipyard and Marina's history, she was inspired by the unfortunate damage unregulated plastic use has had on this community and the sea animals and birds it kills.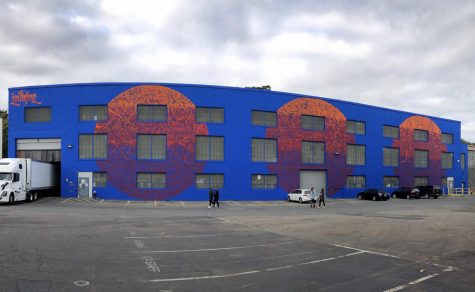 The composition centers around Mestiza, representing the largest demographic of residents in the neighborhood, as reported in the East Boston Data Profile via the city of Boston website.
According to Chavez, Mestiza also represents "the past, present and future of our collective livelihoods, taking action and caring for a better tomorrow."
Through her work, she hopes to educate diverse audiences and inspire change.
"Native animals, seaweed and plants navigate through plastic and particle pieces floating in water. Environmental pollution affects people and oceans alike; it is in our hands to care, advocate and create change, starting with changing our own behaviors before it is too late," said Chavez. 
IMAGINE, a spirited artist from Nepal, created a large, fiery mural on one of the largest buildings in the area, transforming the wrecked wall into a powerful message. The artwork featured three mandalas in deep red and neon orange colors, repeating the message "protect what you love" in Nepali. 
A vivid, multi-colored composition that wrapped around the wall of a small building along the boardwalk was designed by Roth and Douglas. The mural featured a child holding a seashell up to their face, surrounded by ocean wildlife painted in all gray tones. These elements were surrounded by vibrant colored shapes and symbols of plastic water bottles and factory exhaust, sending a message of how pollution is destroying the earth's waters.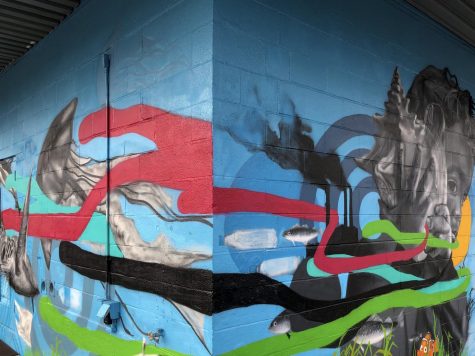 Morway converted a wall in the shipyard into a portrait of two seagulls gliding above the water. Unlike the other murals, which displayed bright blue and multicolored backgrounds to represent the ocean, this artist-activist painted the Boston skyline at sunset, on a cloudy day. By making this decision, this large-scale creation overwhelmed the eye with feelings of gloominess. 
"These murals are being painted with a purpose to give our oceans a creative voice; they aim to serve as educational tools and conversation starters about locally relevant issues affecting our oceans, environment and people," according to the Sea Walls Boston 2020 Facebook page.
Along with the mural presentation, Sea Walls Boston brought the community a series of events to educate families about marine environmental problems and to engage children in the art and the message it sends. 
"Sea Walls Boston is also produced in partnership with Boston Harbor Now, East Boston Main Streets, the Donald McKay K-8 School, Friends of Mary Ellen Welch Greenway (formerly the East Boston Greenway) and many members of the East Boston community," stated the event's Facebook page.
Follow Julia  on Twitter @juliaahaesy.