ICA opens macabre Sterling Ruby exhibit
March 4, 2020
On Feb. 26, The Institute of Contemporary Art (ICA) opened its new exhibition, featuring a diverse sample of pieces by American artist Sterling Ruby.
The exhibit includes over 70 pieces of the artist's work in a wide variety of forms, making it the largest overview of his work. Ruby doesn't stick to one specific medium, working with things like sculptures, collages, nail polish, fabric and alabaster.
In his work, Ruby takes tangible, everyday objects and transforms them into pieces of art. His pieces focus on complex concepts like disempowerment or symbols of authority. With loose organization throughout the exhibit, viewers can see how the artist enjoys creating art out of unlikely materials.
Many of Ruby's works could be considered dark and gruesome. For example, the liquid dye used in his 2011 clear urethane block sculpture "ACTS/WS Rollin" could resemble blood to some viewers. It's clear through this piece, as well as others, that he's taking a more shaded approach to his style. Viewers can also see this in the names of his pieces, with works like "Cry" and "Prison," and the fact that he rarely makes use of bright colors.
ICA visitor Jenny Aguiar, 22, of New York City, said "I walked in here and I was immediately scared, like am I supposed to be feeling this way? Am I just being paranoid?"
While the exhibit may have sparked fear in some viewers, others felt more intrigued. For one student whose goal is to view as much of Boston's art as possible, she found Ruby's exhibit left her with more questions than answers.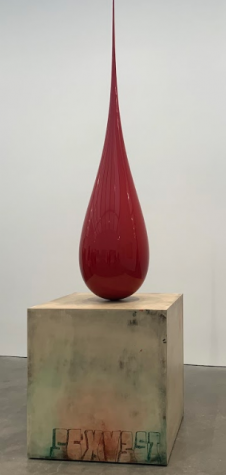 "I'm just curious with, at least so far, [the first rooms of the exhibit] and his fascination with heat and art and the kilns, and how all of his sculptures came to look the way they do," said Gigi Juras, 19, of Boston University. "I'm curious about his passion and intrigue for that."
There were some visitors who felt that the art had a greater meaning than what they saw on the surface. It's evident in Ruby's art that he's trying to send deeper messages since much of his work focuses on the brutality and deprivation of power in American society. He has many pieces that center around the American prison system and acts of vandalism such as graffiti.
"I think [Ruby's artwork] is supposed to send a message," said Jacob Donahue, 24, of Malden. "Maybe it's not supposed to be just plainly pleasing to look at but it's supposed to tell you about a bigger idea, that's the sense I'm getting."
Ruby was born in Germany to an American father and Dutch mother, and moved to the United States at a young age. The 48-year-old artist grew up on a farm in southeastern Pennsylvania and was heavily influenced by the Amish quilt-making and redware pottery he discovered there. According to the ICA website, in 2002, Ruby graduated from the School of the Art Institute of Chicago, where he earned his B.F.A. Then in 2005, he received his M.F.A. in Pasadena, California from the Art Center College Design.
Since 2014, Ruby has had his work featured all over the world, including major cities like Hong Kong, Paris and New York. Now, he is adding Boston to the list as his work resides at the ICA until May 2020.
The Sterling Ruby exhibit is now available for viewing at the ICA until May 26, 2020 in the Bridgitt and Bruce Evans and Karen and Brian Conway Galleries. Suffolk students in the College of Arts and Sciences are able to get free general admission to the ICA with a valid student ID card.