Suffolk organization uses beanies to fight against pediatric cancer
February 26, 2020
In 2015, Suffolk University's Love Your Melon Campus Crew was created to bring greater awareness to pediatric cancer and the effects it has on children and their families, while also sporting multi-colored knit hats.
The club was originally founded on campus by 2019 Suffolk graduates Olivia Brooks and her friends. Now, the Suffolk branch is led by junior Nicolas Colantonio, the club's current president. The 20 crew members and handful of volunteers all want to make the world a better place by helping to make a lasting impact on children battling cancer.
"I know some people that have been affected by pediatric cancer so to help in the fight against it in any way means a lot to me," said Colantonio. "Being a part of Love Your Melon gives me the opportunity to do that."
Love Your Melon Inc. is a for-profit company and apparel brand that was originally founded in 2012 in Minneapolis by two friends to support the fight against childhood cancer, while providing their signature beanies to pediatric cancer patients around the country. So far, they have reached over 190,000 children. The company also sells headbands, scarves, blankets and other apparel, giving 50% of all sales to charitable organizations and other non-profits to  fund research, therapeutic experiences and programming initiatives.
Love Your Melon's campus crew program works with 840 colleges across the country, including Suffolk, to help promote the brand's mission through events and improve the lives of children with cancer.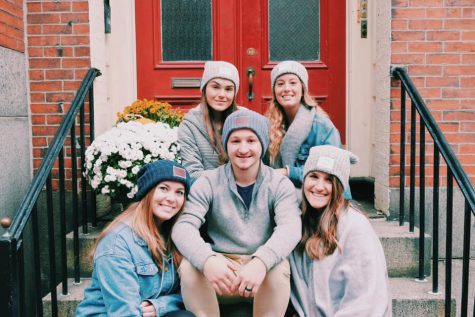 Most recently, the Suffolk Love Your Melon crew hosted an event called "Capping Cancer," where members and attendees decorated mason jars with candy and facts about pediatric cancer. The crew also makes cards for local children battling cancer, hosts Be The Match and DKMS bone marrow drives and meets patients and their families at the Ronald McDonald House and Christopher's Haven. They have also participated in the Relay For Life walk at Northeastern University and the Light The Night Walk that is held every October on the Boston Common.
"There is an opportunity to help out at whatever you can with events as a volunteer and a crew member," said club treasurer and senior Alexia Baugniet, who joined the crew as a freshman.
Baugniet joined the club because she wanted to help doctors find a cure for the disease. She said that she saw the club start with 10 people and grow to a thriving 20 plus members and volunteers, all bonded by their interest in joining the fight against childhood cancer.
Members of Love Your Melon have to attend both meetings and events, whereas volunteers are able to help out whenever they are able to attend an event.
"Over the years of being a part of the organization, I've seen people enthusiastic about our events and have the passion to get to know more about pediatric cancer," said Colantonio.
Sophomore Marissa Kearney is a Love Your Melon crew member and also works to develop the club's media. She joined the group because she wanted to meet people who are also passionate about giving back and helping others.
"I love the group of people we have," said Kearney. "Everyone is so sweet, caring and nice and I've felt so welcomed since day one."
The Suffolk Love Your Melon crew doesn't sell any Love Your Melon beanies, accessories or apparel on campus, but the club encourages students and staff to go online to the brand's website loveyourmelon.com to browse products.
Suffolk students can join the Love Your Melon crew by attending their meetings every other Tuesday during activities period, and by checking their Instagram account @suffolklymcrew to find out about their upcoming events.
Colantonio said that through Love Your Melon, "people at Suffolk want to help make a difference on the community in any way, shape or form."