Spring Showcase perfectly blends humor and drama
February 12, 2020
"Little Dog," "Flicker" and "Rodéo," three one-act plays written and directed by Suffolk students, hit the Sullivan Studio Theatre on Feb. 7 as part of this year's Spring Showcase.
While the shows were each different in terms of plot, setting and characters, they all drew upon common themes of acceptance, self-identity and vulnerability, navigating contemporary issues. Each show packed a punch in its own unique way through the writing, directing and especially acting.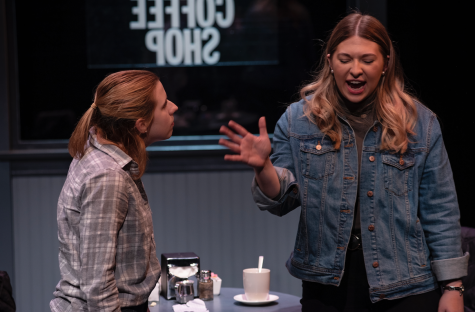 In Liv Joan's "Little Dog," life-long friends Allison (Courtney Langlais) and Holly (Madlynn Bard) reunite at the Little Dog Cafe after being apart for nine years. Together, they share fond memories from their childhood while trying to come to terms with lost time and seemingly unrequited feelings. The two-woman cast lent a personal touch to the performance and drew the audience directly into the intimate dynamic between the characters.
Both Langlais and Bard provided deeply emotional performances by conveying the complex mix of anguish and happiness that Allison and Holly experienced after being apart for so many years. The actresses also provided the audience with clever and subtle humor periodically to lighten the mood. Overall, "Little Dog" was the perfect example of the evolution of true connection, despite the barriers of distance and time.
Both Stack and Lafferty struck the perfect balance between sincerity and humor as they ate Cape Cod chips, drank Sam Adams and stoked the campfire. The apparent camaraderie between the two actors worked to further communicate the close relationship between Anthony and Daniel.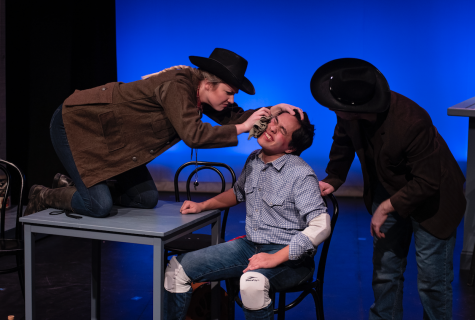 With a slightly different tone than both "Little Dog" and "Flicker," Micaleen Rodger's "Rodéo," directed by Justin Peavey, transported the audience directly into the world of the Wild West, setting the scene in an old saloon where bullfighter Sam (Mitch Strack) and his pals Roy (Robert Stevenson), Bill (Sung Hee Lee) and Shane (Courtney Bouchard) discuss the idea of bullfighting in a good ole Western drawl.
The cast kept the audience laughing and stomping as they spouted lines from classic Westerns, belted Dolly Parton lyrics and duked it out in the middle of the saloon. Despite the frequent jokes and hilarious characters, "Rodéo" also conveyed themes of friendship and being true to one's self that blended perfectly with the message of the showcase as a whole.
This year's edition of Spring Showcase was nothing short of heartwarming and hilarious, displaying the enormous talent of the actors, writers, directors, stage crew and technical crew.