Suffolk honors King's true legacy at annual MLK Jr. day celebration
January 29, 2020
Civil Rights activist Martin Luther King Jr. has always held an important place in Suffolk University's history. In 1956 King spoke at the Ford Hall Forum, and his wife Coretta Scott King received an honorary degree from Suffolk in 1997. Years later, their legacy continues on through annual celebrations on campus.
The Suffolk community came together in the African Meeting House on Jan. 21 celebrate the life of the activist Martin Luther King Jr., and the legacy King left behind. The celebration featured the presentation of the Creating the Dream Award and a keynote speech by the Rev. Brandon Thomas Crowley.
"We must wake up and recognize that being woke is not enough. Being woke and including a sentence on Instagram or Facebook and singing about it is not enough, you can not be a follower of King and not be willing to speak up against unjust structures that exist," said Crowley.
For many, the yearly celebration is a time to reflect on the past, present and future and gather as a community.
"I wanted to see the legacy that MLK left behind, and see how it's active today. If someone like that is leaving a legacy and impacting so many lives, (that legacy) deserves to be celebrated," said Lindsay Dieudonne, a freshman government major.
Suffolk a capella group Soulfully Versed led the crowd in a rendition of the first verse of "Lift Every Voice and Sing," often referred to as the Black National Anthem. The poem turned song was first performed in 1900 to commemorate Lincoln's birthday and began the official song of the National Association for the Advancement of Colored People.
Introductions were made by Director of the Center for Diversity and Inclusion (CSDI) Beatriz Patino and Assistant Director Cameron Breither. CSDI has been a long-time partner of the event and is the sponsor for the Creating the Dream Award,
"We do this event every single year, it's something we kind of try to keep as a tradition. And we work really closely with Black Student Union when we do this event, especially because its so important to the Black community to keep Dr. King's memory in mind," said Jess Lorenzana, a Diversity Peer Educator.
Suffolk's Creating the Dream Award was first awarded in 2005 to recognize the sustained and tangible impact on Suffolk's communities of color by an individual, organization, or department. This year's recipient was senior Leah Grannum, president of the Black Student Union (BSU).
As well as being the past treasurer and current president of BSU, Grannum has supported Suffolk's communities of color through her involvement as a planning committee member for the Celebration of Black Excellence, a member of the Journey Leadership Program and attended the racial justice alternative spring break trip last year.
"She leads with integrity. Her efforts in addressing and raising awareness about issues of equity, diversity and inclusion on our campus are done tirelessly through her robust leadership involvement. She is constantly challenging the status quo in an effort to make Suffolk University a place for everyone," said one nominator.
Grannum was congratulated by Kelly on her accomplishment and was overjoyed to receive the award.
"This is one of the biggest accomplishments that I will cherish forever," said Grannum.
Keynote speaker Crowley demonstrated in his speech, entitled, "A Tale of Two Kings," that there seems to be two different versions of MLK  Jr. that are remembered in today's society.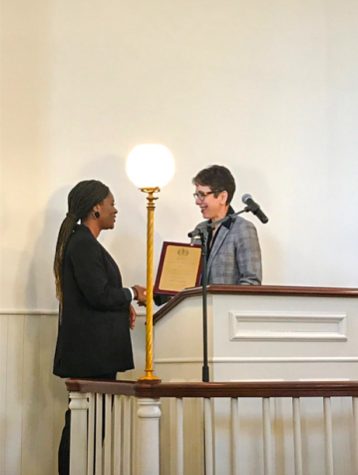 "There is the true historical King who threatened the racist tapestry of America who was a threat, but then there is also this fake, newly created liberal Dr. King that exists in the collective memories of white minds that only casts King as a dociel doe," said Crowley.
The Reverend examined how King was a radical in his time, citing evidence to him pushing for reparations, and was heavily disliked during his time in both Black and white America. Crowley noted that even the Black community in his hometown in Georgia did not want to allow King to come because "he's a troublemaker."
"Now that we jump to 2020, and everybody loves Dr. King," said Crowley.
The speaker questioned how in a country that still has deeply rooted racism and division can call on the name of King and carve his principles in stone in the National Mall. To him, America has rewritten history to produce a palatable portrait of a man that starkly compares to him to Malcolm X, and Crowley didn't want the 'saitized' king.
"Their King was a lover not a fighter. A near respectable 'Uncle Tom' reconciler instead of an anti-establishment revolutionary," said Crowley. "We must, like King, take the risk of losing it all."