Vivian Suter brings Guatemala to Boston with her nature inspired paintings
October 16, 2019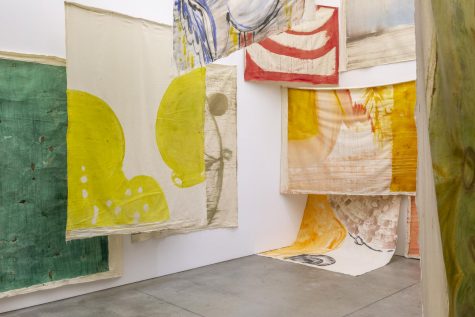 "To me, it's incredible because what we're doing is walking into an environment in a room rather than an exhibit," Narayan Khandeker, Harvard Art Museums Director of the Straus Center for Conservation, said as he began his gallery talk on Sunday afternoon at the Institute of Contemporary Art (ICA).
Khandeker, a senior conservation scientist, unloaded Vivian Suter's colorful, nature-inspired works.
Khandeker discussed and analyzed the way Suter creates her work on canvas, which cover the exhibit from floor to ceiling. Khandeker talked through the artist's creative process, including the type of canvas she uses, the paint and other materials utilized, how she dries the work and outside influences that add to the artwork. He stated that though at first glance some of Suter's pieces may appear abstract, with a closer look, viewers can see that she paints landscapes, dogs and other objects.
Suter was born in 1949 in Buenos Aires. She has painted in countries such as Switzerland, Austria, Italy and Guatemala. Suter now lives in a town on the outskirts of Lake Atitlán, which fills the crater of a volcano and rests on a former coffee plantation.
Since settling down here, all of Suter's works are created against and sometimes become a part of this scenic tropical landscape. Suter utilizes her outdoor space to create, often leaving her canvases outside so nature's forces can help to weather her art. Even going so far as to include her dog's contributions in her painting process, viewers will often find paw prints sprawled across her work from her pets running through the paint.
Many of Suter's pieces have outside elements on them like dirt, leaves, plant matter and water lines from flooding. Khandeker said this part of her creative process is interesting in contrast to other artists because she is much less concerned about the natural forces that impact her work. Other artists may pack and ship their work neatly in order to make sure their original image remains intact, while Suter has a more laissez-faire viewpoint. If a twig falls off, it falls off.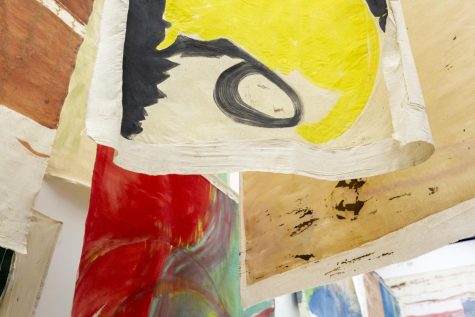 All of Suter's artwork is local to her surroundings. She uses locally produced Guatemalan cotton fabric for her canvas, a material similar to what is used to make clothing. She also takes advantage of the oil paint available in Latin America, as Khandeker pointed out, it is nearly impossible to find in the United States today.
Suter adds another touch of home to her work by using locally sourced fish glue by adding it to her pigment, which is an old western painting technique that allows the painting to have a matte look without brush strokes appearing.
A key element about Suter's artistic style is how fluid she is in her creative process, both with how she paints and displays her installations. In her exhibit at the ICA, she worked closely with the installation team and always arranges her work in different ways.
An audience member pointed out during the gallery talk that she hung a large portion of her work close together, almost like clothes on a clothing rack. Suter is said to have put her art this way because it is reminiscent of how she hangs art to dry in her studio, and she enjoys how it looks.
A turning point for Suter's art occurred when a monumental flood struck her studio due to a hurricane in the region she lives in. This event circles back to her style of letting nature influence her work and including much of her outdoor landscape in her paintings. Rather than tossing out her damaged paintings, as many artists may do, Suter embraced it. She allowed nature to take its course and leave its mark on her art, deciding to include these flood marked works in her collections.
Khandeker held the talk in a conversational format, often inviting audience members to join in and ask questions, as well as provide their input on Suter's work and how she may have created some of her pieces. Khandeker turned to the room to pose questions like what could have created these lines on one particular work, or how the cracks could have developed on another.
At one point, a debate sparked about how it should be handled if a piece were to have a leaf fall off. Do you glue it back on, or is it not important? Is it a part of the art? Khandeker stated that the different points of view on this are interesting.
The Vivian Suter Exhibition is on display until Dec. 31 in the Paul and Catherine Buttenwieser Gallery.